Toshiba Satellite U500-1EX touchscreen notebook
A light touch?
Review Toshiba is evidently very pleased with its Satellite U500 design: it has now based several models on it, including one with joint Ducati branding. The 1EX version reviewed here adds support for Windows 7 touchscreen gestures.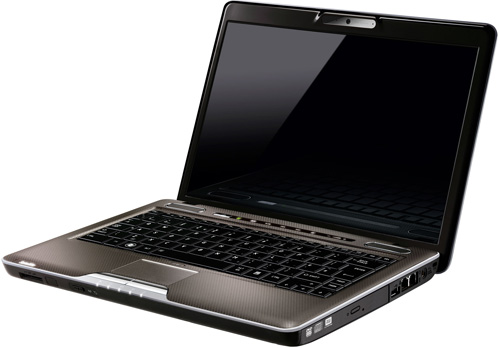 Toshiba's Satellite U500-1EX, decked out in an 'interesting' two-tone black and brown
The case has textured surfaces which, experience tells us, does not necessarily aid grippiness in portable devices while tending to retain grime. The Satellite U500-1EX has also been given a two-tone colour scheme in black and brown, which certainly looks unusual, if not altogether appealing in my humble opinion.
Compactly designed to conform to its 13.3in screen, the unit gives a misleading initial impression of being a bit chunky. It's not: it's just that the non-flush rubber feet underneath raise the computer another few millimetres from your desktop.
Connectivity ports are liberally distributed around the left and right-hand edges, with absolutely none at the rear – oh happy day. The power cable inserts towards the back of the right-hand edge, the inevitable 'dead rat' transformer halfway along the cable being quite small.
The provision of an HDMI port will be valuable for presenters and trainers, while the external eSata port makes it possible to access high-speed external storage easily. You can never have enough USB ports, and neither does the Satellite U500-1EX with just two, although the eSata connector doubles up as a third USB port if necessary.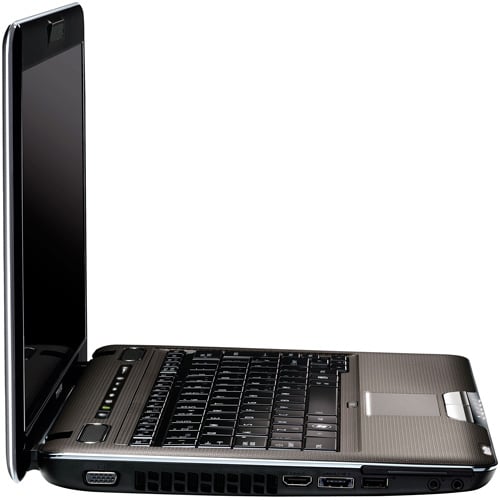 HDMI interfacing included, but only two USB ports
You can open the clamshell without having to fiddle with a clasp, revealing a small keyboard without a numeric keypad. The key caps are extremely difficult to read unless you are in a brightly lit room.
COMMENTS
@Steven Knox
Which distro to pick is of course a concern but that's a separate issue. El Reg needs to come up with a policy on that
Fugly
...and expensive. and only 2 USB ports?? No thanks!
No trouble at all...
For one distro. But what if they did it with, say, Knoppix, and you're, say, an Ubuntu fan? Do they just test if the distro will boot, or do they test each and every hardware module for compatibility with each app that uses it?
This is a review of hardware as delivered. The laptop was delivered with Windows 7, so that's what they tested. To test everyone's favorite OS would not be a good use of their time.
I love Linux, but I'll go to a Linux- (and preferably distro-) specific site for reviews of hardware compatibility with it.
No mention of Linux
Surely it's not too much trouble to throw in a Live disk and tell us how this hardware fares with the Linux distro in question?
Fail...
They almost had me until there were two significant failures:
1) Deaf touch screen requires too much force.
2) 100Base-T instead of Gig-E?!
My three year old Lenovo has Gig-E.
Bob