Have Dell's EMC storage revenues been falling?
Weaker CLARiiON calls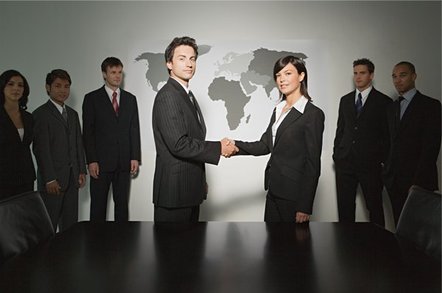 Comment Dell seems to have recorded an annual decline in sales of its EMC CLARiiON-sourced storage, according to its latest quarterly results.
The company has just announced its first fiscal 2011 quarter results, and overall storage revenues were $554m, up 3.7 per cent year-on-year, and down 7.5 per cent compared to the previous quarter. EqualLogic-based revenues are going up like a rocket, growing 78 per cent year-on-year. PowerVault product revenues also grew 20 per cent year-on-year. So what dragged overall storage revenue growth down to a measly four per cent?
It's EMC CLARiiON products OEMed through Dell.
Stifel analyst Aaron Rakers reckons EqualLogic revenues were $167.4m in the latest quarter, and writes: "This would imply core Dell storage revenue (ex-EqualLogic; primarily Dell/EMC and PowerVault solutions) declining approximately 12.1 per cent year-on-year and 17.5 per cent sequentially."
Since he says PowerVault revenues rose 20 per cent year-on-year, yet PowerVault plus EMC revenues fell 12 per cent over that period, the EMC revenue decline must have been large. Various spreadsheet models with different proportions of PowerVault to EMC product sales suggest the EMC revenue decline could have been between 10 and 40 per cent year-on-year.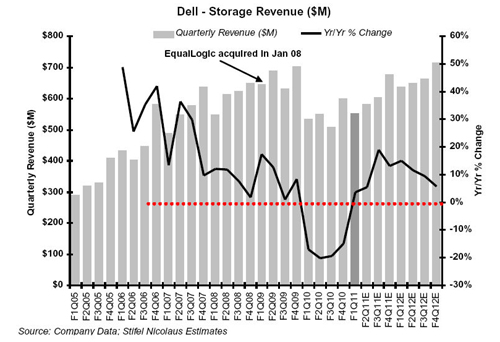 Indirect support for this comes from EMC chairman and CEO Joe Tucci. He told investors at a conference that he believes the Dell-EMC relationship will grow stronger over time. EqualLogic sales had affected CLARiiON sales through Dell and Dell's signing up to ship Celerra and Data Domain products from EMC should put the relationship into a growth mode again. In other words it has not been in a growth mode.
Another source of CLARiiON woe is JP Morgan. It has published a North America Equity Research note on EMC written by Mark Moskowitz, dated 25 May 2010, which says:
Our conversations with industry contacts suggest that EMC's solutions are not offering quite the seamless and cost-effective approach to implementing server virtualization as NetApp's solutions. This shift away from EMC ... is mainly due to NetApp's solutions having better compatibility with VMware virtualisation software. NetApp's IP-based heritage and its lower total solutions cost provide high value, i.e., more storage per dollar."
And this, which pertains more to Dell:
EMC has made suitable improvements in its CLARiiON product line, though we believe NetApp's heritage as more of a low to midrange solutions provider puts the company in the driver's seat. EMC does not trail far behind, though. Another swing factor, however, is Dell's EqualLogic business. Our conversations with industry participants indicate that Dell's IP-SAN solutions also are grabbing increasing attention in the marketplace.
Moskowitz is saying here that Dell EqualLogic competes with CLARiiON for sales.
Rakers has charted Dell storage revenues over the past five years and there is a clear long-term decline in storage revenue growth over the period. He is modelling that the decline will reassert itself after the current recovery tapers out next year.
Dell was asked to comment on this story but declined, saying it cannot disclose actual numbers around EMC. ®
Sponsored: Minds Mastering Machines - Call for papers now open