Veho Muvi Atom video camera
The world's smallest camcorder?
This camera has a purpose and professional filming is not one of them. It's designed for fun without having to worry about breaking it. Yet using it presents numerous difficulties. With no viewfinder or image preview function, it really is a click and hope for the best, with results viewed later being reminiscent of waiting for a film to come back from the chemist's.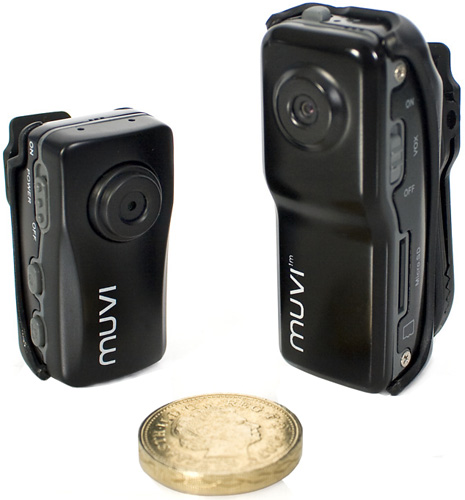 Quids in: the Atom (left) and the Micro (right) square up
Even when I thought I'd mastered the framing, I still managed to get it wrong. It's great for capturing moments on the fly, but still worse than a good mobile phone. That said, attached to your bike helmet however, or strapped to the head, the camera can be quite fun and captures some interesting results. But handheld, keeping the camera steady is difficult and doesn't take much movement to seem like you have shakier arms than a polygraph
The Atom takes Motion JPEG AVI files at 640 x 480, but the audio bandwidth is only 8kHz and consequently the sound is a huge let down, picking up a lot of background ambience with the end result being quite noisy. No doubt it has an omnidirectional mic that will capture a broad soundfield; with close range recording lacking emphasis. Furthermore, the recorded sound was frequently distorted with its levels seeming a touch too high to cope with everyday dynamics.
Verdict
Overall, the Veho Muvi Atom is an enjoyable, yet hideous piece of kit. If you want to make points of view videos or simply have a concealed camera that will fit in the fob pocket of your jeans, this may be for you. If you're expecting good quality and useable sound, you'll most likely be disappointed. The Atom probably has enough to keep many outdoor types satisfied, despite the low battery life and slow connectivity. However it is expensive and with its lack of viewfinder it takes a lot of practice to get decent results. ®
More Camcorder Reviews...

Creative
Vado HD
Sony Bloggie
MHS-PM5K
Samsung
HMX-U10
Toshiba
Camileo S20
Sponsored: Minds Mastering Machines - Call for papers now open

Veho Muvi Atom video camera
Diminutive and seemingly unbreakable SD video spy camera.