This camera has a purpose and professional filming is not one of them. It's designed for fun without having to worry about breaking it. Yet using it presents numerous difficulties. With no viewfinder or image preview function, it really is a click and hope for the best, with results viewed later being reminiscent of waiting for a film to come back from the chemist's.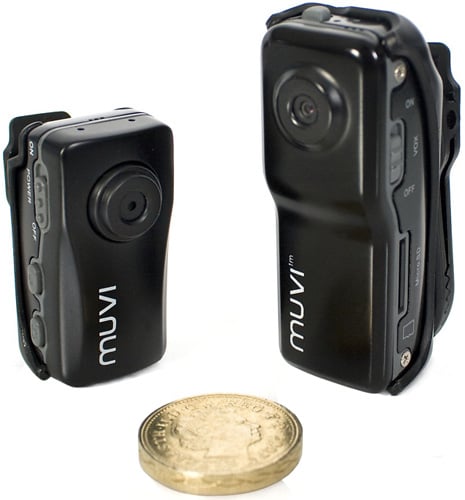 Quids in: the Atom (left) and the Micro (right) square up
Even when I thought I'd mastered the framing, I still managed to get it wrong. It's great for capturing moments on the fly, but still worse than a good mobile phone. That said, attached to your bike helmet however, or strapped to the head, the camera can be quite fun and captures some interesting results. But handheld, keeping the camera steady is difficult and doesn't take much movement to seem like you have shakier arms than a polygraph
The Atom takes Motion JPEG AVI files at 640 x 480, but the audio bandwidth is only 8kHz and consequently the sound is a huge let down, picking up a lot of background ambience with the end result being quite noisy. No doubt it has an omnidirectional mic that will capture a broad soundfield; with close range recording lacking emphasis. Furthermore, the recorded sound was frequently distorted with its levels seeming a touch too high to cope with everyday dynamics.
Verdict
Overall, the Veho Muvi Atom is an enjoyable, yet hideous piece of kit. If you want to make points of view videos or simply have a concealed camera that will fit in the fob pocket of your jeans, this may be for you. If you're expecting good quality and useable sound, you'll most likely be disappointed. The Atom probably has enough to keep many outdoor types satisfied, despite the low battery life and slow connectivity. However it is expensive and with its lack of viewfinder it takes a lot of practice to get decent results. ®
More Camcorder Reviews...

Creative
Vado HD
Sony Bloggie
MHS-PM5K
Samsung
HMX-U10
Toshiba
Camileo S20

Veho Muvi Atom video camera
Diminutive and seemingly unbreakable SD video spy camera.
COMMENTS
Clones are $15
Delivered from certain well known chinese websites.
You'd be a fool to drop 80GBP on it.
Get a clone
I've got a clone, it does a better job than the real thing. They're quite popular with mtbing folk, and it's always amusing to compare the footage I've got for 12 quid to the one that someone payed 80 quid for.... esp the older ones of the model reviewed, that actually only do 20fps...
They work well in good light (e.g. strapped to a snowboard boot), and badly in low light.
Regression?
My older Micro doesn't suffer from rolling shutter or the short battery life, plus it's only US$75 at Brookstone, so apparently they've taken several steps backwards.
The thing is only the size of my thumb anyways, so another cm or so smaller isn't that big of an advantage to me.
Now one issue is my Micro IDs itself as USB 1.1 (on Linux, Windows XP and Vista, on several makes of PC) and only transfers at 1.1 speeds. I talked to Veho tech support, and they didn't bother to reply. It's a LOT faster to take the card out and use a USB 2.0 reader.
Also, both xine and mplayer find lots of issues with errors in the resulting video files, but they can still play it.
I didn't know about keyfob cameras, but now I do... thanks to the other comments.
£20`ish
Just got one of the clones from a Channel Island company cost me ( with discount about £16 P&P Inc )
720x480, comes with charging mains plug* + USB cables.
Cheap, cheerful and fun, just point and click.
* In fact this is a 3 pin mains plug with a USB outlet that the USB cable plugs into very handy for charging all the other portable USB things I have, Yes I do shiny in a big way.
Where were the vids taken?
Bath? Cheltenham?
Looks lovely... but i couldn't really make out enough detail!!