Veho Muvi Atom video camera
The world's smallest camcorder?
Review Any aspiring secret agents out there will probably be interested in the new Veho Muvi Atom DV camcorder. At 40mm tall, it's even smaller than last year's Muvi Micro that was touted as the smallest camcorder in the world. The Atom's size is impressive but it comes at the cost of the viewfinder – there isn't one.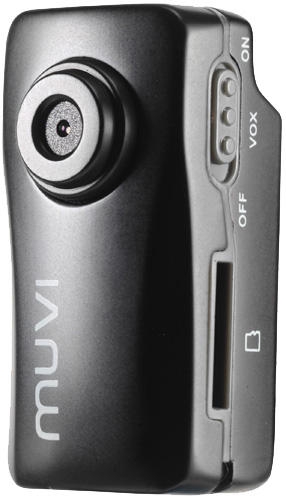 Small wonder: Veho's Muvi Atom
A fixed focus camera – which, unlike the Micro has a stills capture facility too – the Atom is aimed at the sports enthusiast and part-time control freak voyeur. It comes with additional strap and clip attachments, enabling the device to be fastened in a variety of positions – one suggestion being to strap it to a bike helmet.
Although tiny, it features a robust metal casing and is reassuringly weighty and certainly doesn't feel like it will break easily. One user report claims an Atom had been run over by a 4x4 and yet survived with minor scratches, to record again. I wasn't prepared to put that to the test, but it is believable.
The Atom comes with a 2GB micro SD card and supports up to 16GB. Cards are easily swapped out from the exposed slot on its side, but it's more likely the battery will give out before you run out of space. Indeed, 1GB of space will hold 30 minutes of video and with the battery life of just one hour when recording, the 2GB card seems an ideal match.
There's no LCD display of any kind and so all information is conveyed with just two tiny LED status indicators – red for standby or USB connectivity and green for media capture or memory card activity. Other combinations alert low battery and remaining memory capacity status. Buttons on the side handle power, voice actuation, video and still image capture.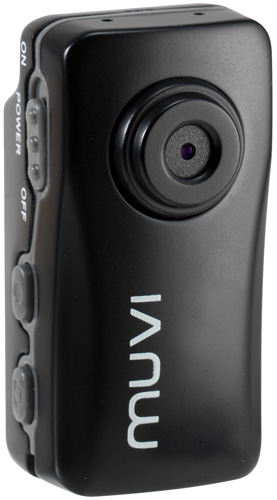 Shoot from the hip? There is no viewfinder on this camera
Video recording boasts FRE technology – frame rate enhancement, apparently. Upon further investigation, I was informed that, thanks to FRE, the Atom to records at 30fps. With this being rather standard on cameras these days, I did some dialling and dug deeper. The upshot? Apparently, FRE is a fabricated term to "differentiate between models", as the Micro only manages 20fps, the Atom 30fps. FRE technology? No marketing ploy there then, obviously.
Sponsored: Minds Mastering Machines - Call for papers now open