Teac R-4iDNT Wi-Fi/DAB/FM radio and iPod dock
Log on, tune in, dock out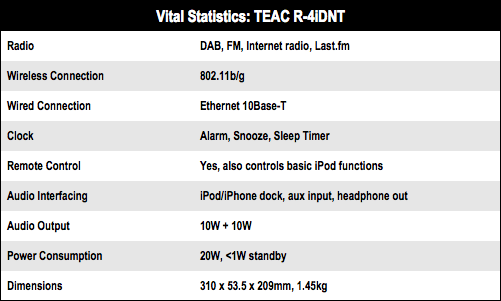 My review model didn't even let me play Last.fm 'Recommended' songs, which the website and Logitech's Squeezebox players do without charge. I hope that other services like Spotify or mflow could be added by future software updates to complement linear online stations.

The remote control is not exactly elegant but it's reasonably easy to use
Part of the reason it's slim is down to NXT flat-panel speakers. They use the newer 'balanced mode radiator' design, claimed to improve bass. Given the size of the unit, it is not bad to listen to. With EQ left on default 'flat' mode, music can lack definition and sound a little hollow, so it's worth boosting bass and treble a few notches.
Yet I was able to get Laura Marling's voice sounding suitably earthy on the track Rambling Man from her 2010 album. The DAB performance is pretty resilient but a Beethoven string symphony was rather shrill, so it's not quite the sonic all-rounder I'd hoped for.
Verdict
Costing less than £200, the R-4iDNT is cheaper than Pure's Avanti Flow or Sensia but those have a few more features and frills. There are cheaper Internet radios, however, they usually lack DAB and iPod docking. As a music player it is unlikely to make a fully-fledged hi-fi jealous, but the Teac is a sleek and convenient way to get a broad range of music and radio into kitchens, bedrooms and small-to-medium sized rooms. ®
More Wireless Music Player Reviews...

Revo
Heritage
Altec Lansing
inMotion
Compact
B & W
Zeppelin Mini
Logitech
Squeezebox
Radio

Teac R-4iDNT Wi-Fi/DAB/FM radio and iPod dock
Slimline radio and iPod dock that receives DAB, FM, Internet stations, podcasts and streams music from your computer.