Olympus Tough 8010 rugged camera
Takes the knocks and the shots
It's hard to say how all this translates to the real-world. Without obtaining (expensive) data across a range of product samples, it's impossible to know just how much punishment the Tough 8010 can really stand. Yet over the course of our testing, it remained resolute in the face of some shockingly punishing treatment.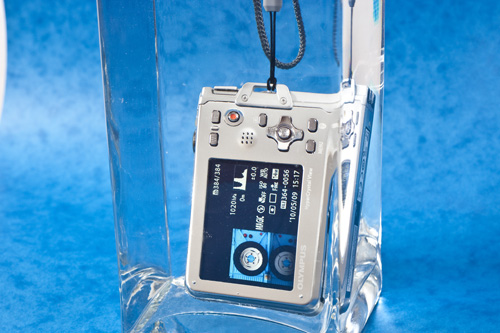 Dunking good for up to 10 metres, apparently
The only serious caveat is contained at the end of the manual, which explicitly spells out that the European warranty doesn't cover damage sustained in a fall or shock. However, Olympus says this is to cover truly idiotic treatment – opening the battery compartment while underwater, for instance – rather than the company attempting to deflect genuine defect claims.
At just over 200g the Olympus Tough 8010 is heavy. The body is plated with anodised aluminium, and it features possibly the heaviest-duty battery/memory slot door on any compact camera. The door – locked closed by a sliding catch which is itself locked in place by another rotating lock – has inner and outer rubber seals to keep the battery, memory card, type-C HDMI connector and proprietary USB connector dry and free from interfering dust.
The 8010 supports SD and SDHC memory cards only – bad news for Olympus fans with a stash of old xD cards lying around. The 2.7in screen on the back is decent as well. It was a touch dark in bright sunlight, but is reasonably high resolution at 230k pixels.
There are a few compromises. Presumably, building a toughened camera with a lens that extends beyond the body presents too much opportunity for dust and water ingress, so the Tough 8010's 5x optical zoom operates entirely behind a glass cover. Its focal length is equivalent to a 28-140mm 35mm lens, which is standard for a compact camera: wide enough to have you covered for landscape photography, and long to zoom in on objects in the middle distance.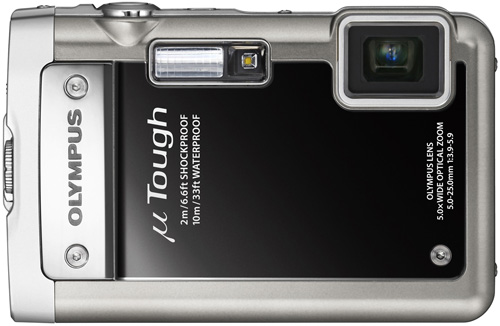 A protruding lens would be impractical given the need for water- and dustproofing
The lens is best described as reasonable. It doesn't have any killer flaws, but it doesn't allow the 8010 to stand out in terms of image quality. Its maximum aperture at 5mm (28mm equivalent) is f/3.9, and at this setting, high-contrast areas were beset by chromatic aberrations. Things showed slight signs of improvement at f/10, although the torture test of shooting tree branches against a white sky never produced superlative results.
Sponsored: Minds Mastering Machines - Call for papers now open