PARIS flashes some radio goodies
Beacon and GPS kit unveiled
The beacon set-up: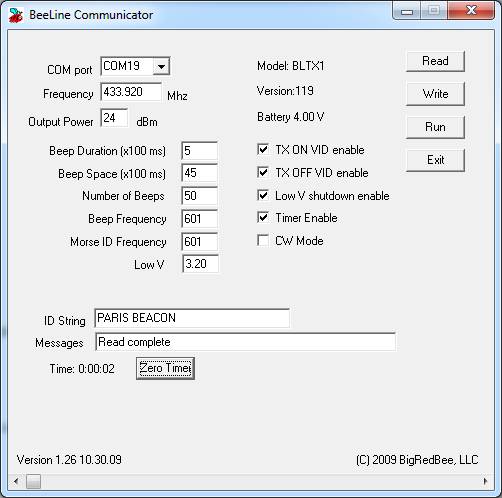 Frequency: Enter the frequency desired, in Mhz. The valid range is between 420-450Mhz.
Output power: Enter an integer between -20 and +24dbm.
Beep Duration: Length of a 'beep' in 100 ms increments (3 = 300 millisecond). Range is 1-255.
Beep Space: Length between beeps in 100ms increments (47 = 4.7 seconds) Range is 1-255.
Number of Beeps: Number of beeps between ID String transmissions.
Beep Frequency: Audio frequency (in Hz) of the 'beeps'.
Morse ID Frequency: Audio Frequency (in Hz) of the Morse code transmissions.
ID String: Message to be transmitted via morse code.
Battery: The battery voltage as read by the A/D converter.
TX ON ViD: Battery Voltage on Transmit.
TX OFFVID: Battery voltage is when not transmitting.
Skip low V shutdown: If checked, Low voltage check and shutdown is not enabled.