Apple kills 'Get a Mac' ad campaign
'I'm no longer a Mac.' 'I'm no longer a PC'
Apple's long-running "Get a Mac" ad campaign has finally been put to sleep, after languishing in limbo since its final ads appeared in October of last year.
Today if you enter "get a mac" in the search box on Apple's website, the list of results is headed up by a link beginning with what appears to be Apple new advertising tagline: "Why You'll Love a Mac."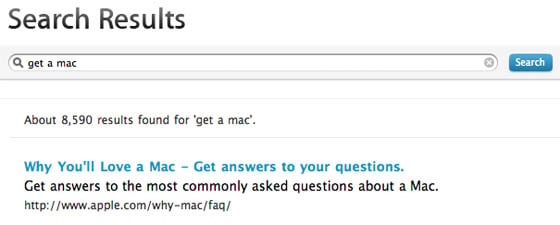 "Get a Mac" has been made an un-campaign, Soviet style
The now-defunct URL www.apple.com/getamac now redirects to a new "Why you'll love a Mac" page — which, by the way, doesn't animate correctly when viewed on the iPad. We can't imagine why...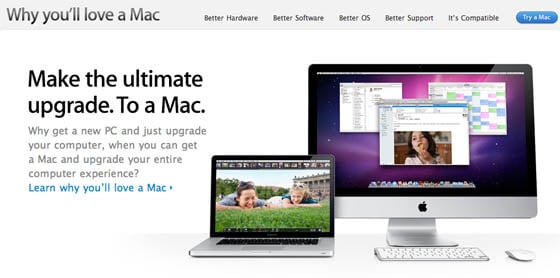 "Better hardware, Better Software," and so on. Yawn...
The award-winning "Get a Mac" campaign launched in 2006, with over 80 thirty-second spots being produced, some exclusive to the UK, Japan, or the web. The series, which feature Justin Long as the scruffy-but-adorable Mac and John Hodgman as the businesslike-but-adorable PC, was one of Apple's most successful, sparking a raft of parodies.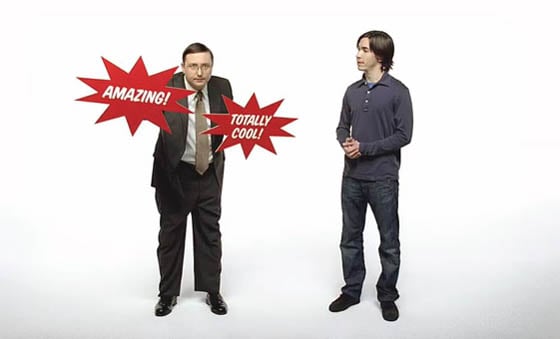 Such frivolity no longer fits with Apple's preferred image, it would seem
The demise of the campaign comes as no surprise. When asked about the campaign last month by an A.V. Club interviewer, Justin Long said: "You know, I think they might be done. In fact, I heard from John [Hodgman], I think they're going to move on."
And now, apparently, Apple has indeed moved on. We add "apparently" only because Cupertino didn't respond to our request for confirmation.
Which is too bad. We would also like to have asked them why the popular-if-snarky series was replaced by something as thoroughly bland as "Why you'll love a Mac." ®
COMMENTS
Should you desire...
....you can run Windows 7 in any manner of VM's too.
Since moving to a Mac 4 years ago, i've not yet found a need to install any version of Windows though. I find a stable, solid, incredibly fast, easy to use OS refreshing. Windows 7 is indeed a big step forward, an 8/10 for the blatant copying of Leopard, still a bit clunky by comparison though, still uses that antiquated registry thing too...
They butchered the term
IBM was successful it getting the generic "PC" to mean IBM (and compatible) machine.
MS was successful in getting the generic 'windows' to mean MS windows.
Apple, through this campaign, have now got people assuming that 'PC' means "Computer running MS windows"
I own a PC, but there's nothing MS on it dammit!
Hmm.
So the main basis of your argument is that something may be coming to a Mac. Namely viruses, things that are incredibly scarce and to be fair you'd have to be a raving idiot to get infected by.
My 27" Core i7 works faultlessly and has done since day one. As have the 7 Mac laptop's in my friends and family possession, and the (quick count) approximately 17 iPhones - none of which have had a single issue with WiFi, Bluetooth etc.... I shan't mention the plethora of Windows machines that flatly refuse to log in with their WiFi switch enabled, or that refuse to connect to WPA2/AES networks, or Windows Mobile... oh, oops, too late!
Still, why let the facts get in the way of your argument eh?
""Freedom from porn. Yep, freedom. The times (...) are changing..."
After the recent flat-out evil and bizarro-King reactions and disgusting lawsuit, journalist-attacks etc it would be very pathetic for Apple to push for this rather jovial image...
...Apple is a CORPORATION. And more recently a rather disgusting, evil one at that, I must add.
it was fun
I will miss John Hodgman. Did I say I have a PC (and a powerbook 100 somewhere)