Bush DVB680
Review Bush, once a noble British brand, is now a house brand for Argos. Whether that explains the DVB680's low-quality feel, I can't say, but this box certainly seems cheaply made.

It's a metal box with holes punched in the rear for the sockets, and a plastic panel clipped to the front. The front panel sports a very bright red LED display that's looks like a part designed for an alarm clock. And the DVB680 is the only box here with no USB port.
The remote is even more shocking. The numbers aren't arranged in the usual phone keypad style, with four per row instead, and the navigation keys have the OK button below them, instead of in the middle. It'll be confusing to anyone who's used a TV in the last decade.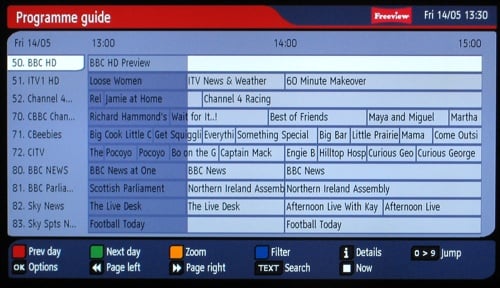 While the box certainly works, its on-screen interface is nothing to write home about, and for anything more than now/next on the current channel, you have to dive into the full EPG, which needs an extra button press to see any programme details.
Really, the sole redeeming feature is the ability to transcode to Dolby Digital.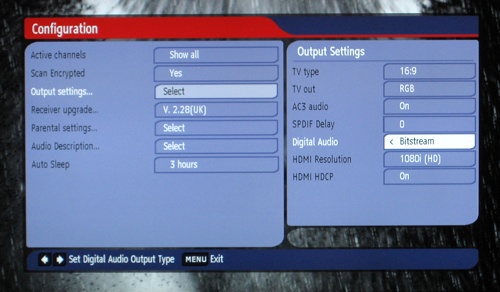 Verdict
With it's shocking remote, and clunky interface, the only real saving grace of the Bush is its Dolby transcoding. ®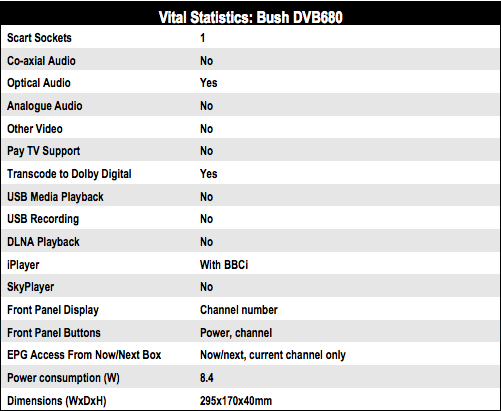 Next: Goodmans GDB300HD
COMMENTS
Not much in it, frankly
When it comes to picture quality, I think you'd be hard pushed to spot any significant difference between these boxes, frankly. I worked through all seven of them in quick succession when I was testing the surround functionality, as well as longer periods individually, and I honestly don't think any one stood out as better or worse than the others.
In terms of picture quality, you will generally be much more at the mercy of what's being broadcast then of the performance of your box, and so when it comes to choosing between them then it will fall far more to those other points on which I concentrated.
Seriously?
So you hate the EPG and the remote - right, OK, but you seem to have missed out picture quality - probably the most important feature of a new HD set top box!
For the record, I bought this Bush box for £90 and I actually don't mind the interface, but the remote is dire, and the LCD display is awful. Having said that the picture quality on the HD channels is absolutely fantastic. I was really unsure about the box when I first got it because let's face it, it's Bush, but I was genuinely blown away when I saw the HD channels in action. Thumbs up from me.