Unfortunately for Dell, the first review sample it shipped out to me was pretty much useless in that the touchscreen had a mind of its own. Random screen presses occurred every few seconds, almost as if there were a poltergeist in the room – all of which made it impossible to use. Furthermore, one of the waterproof caps at the rear wasn't particularly snug.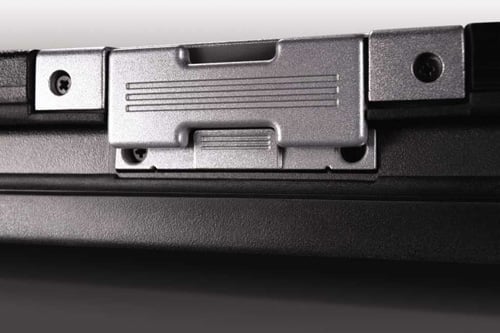 Robust fittings keep the elements and accidents at bay
Dell therefore recalled the laptop back to its labs and, about a week later, it was returned. The loose waterproof cap appeared much more secure, the screen was just as problematic as before, which seemed more than a little odd since Dell had told me their labs couldn't find anything wrong with it.
In order to get things moving, Dell opted to send me a German version of the XT2 XFR, which is identical except for the different keyboard layout. Thankfully, this sample worked perfectly. I don't want to knock Dell too hard over the malfunctioning of the original review sample, but given that this laptop is meant to be harder than nails you'd think the chances of problems occurring would be pretty small.
With a fully-functional sample I decided to go about testing some of Dell's claims. The laptop is both MIL-STD-810G (a US Department of Defence test) and IP-54 (protection from dust and water) certified, so I started by subjecting it to a few random drops. Dell reckons a 3ft fall is no problem for the XT2 XFR, so, tape measure in hand, that's exactly what it got. Despite making an unholy racket, it emerged unscathed and the rubberised sections of the chassis meant there were no unsightly marks.
Of course, being a tablet it's designed to be used in the hands at chest height. And since most people are a fair bit taller than 3ft, a butter-finger moment would most likely result in it tumbling around 5ft. To be honest, I reckon a 5ft drop wouldn't be a problem, but I didn't fancy testing beyond Dell's specifications and then be faced with a hefty repair bill.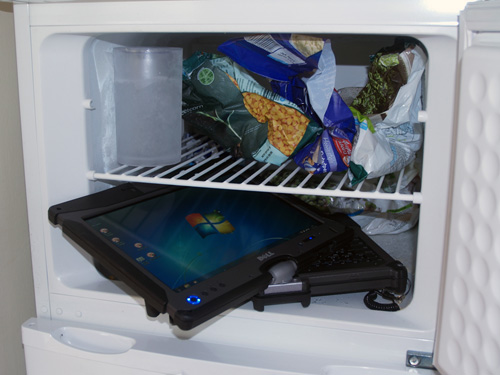 Ice to see you – the XT2 XFR seems happy enough in a deep freeze
Another of Dell's claims is that it can withstand temperatures right down to -40C, and be fully operational at -23C. And after finding the temperature of my freezer to be -21C, I decided to plop it in overnight alongside the freezer's woefully out-of-date contents. The next morning I took it out, fired it up and – despite being too cold to hold – it appeared to work fine.
COMMENTS
Virtualization
Run those tools in a virtual machine, perhaps?
XP Pro
I cannot understand why Dell would not use Windows 7 Pro. As a previous poster send WIndows XP is very important to the corporate market and will remain so for another few years. 7 Pro and Ultimate includes Virtual PC meaning any XP program will work without any problem, alhough not XP drivers, ultities and AV software.
I have to say though that in this market the Panasonic Toughbooks are the benchmark for fully rugged laptops. And for semi-rugged laptops I would very strongly recommend the new HP Elitebooks.
3hours??!!
The battery is woeful! my toughbook can manage 7hours with display on full brightness, wifi on and several internet pages running...
The XFR's are nice looking but after a few toughbooks, I wouldnt choose anything else! - Ive thrown an old CF-27 over head height, in the garden and it apart from dislodging a pcmcia card carried on working :D
VAIO VGN
I've dropped my vaio about three feet onto concrete, spilled wine on the keyboard and additionally in the dvd drive (don't ask), i've used it in the rain and it's still happily ticking along after four years of abuse additionally it only weights 1.2 kilograms and didn't come with the pricetag that the tablet does.
32Bit
"Other features include 802.11n wireless, Gigabit Lan, an ambient light sensor, fingerprint reader and Windows 7 Professional 32-bit."
Why for the love of all that is holy is anyone shipping NEW machines with 32 Bit versions of Win7?
I mean for that matter why did M$ even MAKE a 32Bit version available? It's not like there are any machines running with 32Bit only CPUs still out there that could run Windows7 comfortably FFS
Or maybe they WANT people running P4 1.6Ghz installing their OS, so that they get pissed off with it being so slow, and go out to buy a new computer, which nets M$ another License?
It is baffling.