Packard Bell dot S2
Outperforms the Acer it's based on?
At 1.25kg and measuring 258 x 185 x 25-36mm, the dot S2 doesn't throw up any surprises as far as weight and dimensions go. Those with an eye for detail may be interested to hear it's a couple of millimetres thinner than the Acer 532h – everyone else can consider them the same size.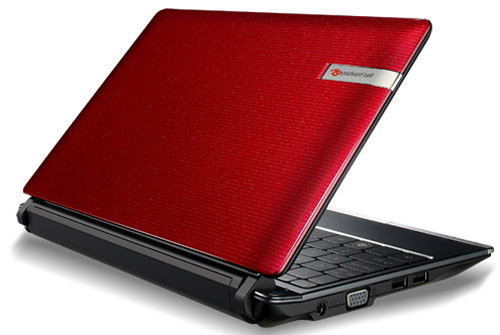 Glossy on the outside, matt in the middle
Bundled software on netbooks usually comprises little more than the ubiquitous MS Office 2007 and Norton trials, along with other assorted 'free' programs. In an attempt to stand out from the crowd, the dot S2 comes with something slightly more useful in the form of the full version of Adobe Photoshop Elements 7. Sure, it's not the latest release and can be picked up for under £30, but it's useful to have nonetheless. That said, with the limited resources available, it can be a little sluggish at times.
You'll also still need to spend some time wiping the usual array of bloatware off the dot S2's 250GB hard drive – yes, that includes Microsoft's ever-so-generous Office trial.
A few other extras are also thrown in, such as the XSync USB cable. This allows for quick and easy ad-hoc connections between the netbook and any other computers you may have – the idea being you can quickly shift files to and fro. There's also a soft neoprene case thrown in, which will help safeguard the dot S2 from picking up unsightly scratches.
Finally, it's worth mentioning that my test drive with Ubuntu proved successful – all the major components were recognised without the need to go hunting for drivers. There were some minor problems though, such as the SD card reader and multi-touch gestures on the touchpad refusing to play ball.
Verdict
Although the dot S2 is frighteningly similar to the Acer 532h, there are a few differences. The touchpad is an improvement and the extra bundled software a welcome bonus, while it also manages to out perform the Acer-branded version in terms of battery life. It's not enough to get a better score, though. I also can't help feeling that if Acer is to continue producing netbooks under the Packard Bell brand, it would do well to differentiate them from the Aspire One series a little more. ®
More Netbook Reviews…

Sony
Vaio M
Dell
Mini 10
Asus
Eee PC
1005PE
Nokia
Booklet 3G
Sponsored: Minds Mastering Machines - Call for papers now open

Packard Bell dot S2
Bears a striking resemblance to Acer's 532h but without the glossy finish.