Usefully, you can adjust the brightness of the display all the way between extremely bright and almost completely black. This is possible thanks to the LED backlight system, helping keep the power consumption low. Another contributing factor is the way the system switches automatically between low-consumption, on-board Intel graphics chipset for office programs and the more powerful Nivdia GeForce GT330M for games and graphics-intensive software.

External battery level indicator lets you know how the charging is going when closed
I was not able to test the battery life thoroughly under lab conditions, but a scaled-down benchmark involving hard disk video playback with screen brightness set to 100 per cent and audio at 50 per cent suggests that you could use the MacBook Pro intensively for a good six hours non-stop before even thinking about the next recharge. Apple's estimate of eight to nine hours between mains recharges is perhaps optimistic but certainly not unrealistic for general use.
The mains cable has a 'dead rat' transformer halfway along it, although Apple has designed it to be flat (it's about 6cm square and 2cm thick) to make it convenient to pack away. The cable itself is long but thin and supple so that it's easy to wind up without risking it bursting everywhere inside your bag.
The connector at the MacBook Pro end doesn't so much insert into the power port as snap onto it magnetically, a feature called MagSafe that Apple has been employing for a couple of years now. It means if someone trips over the mains cable while you are recharging the computer, the magnetic connector is pulled away harmlessly from the notebook's power port rather than the cable yanking the entire notebook onto the floor.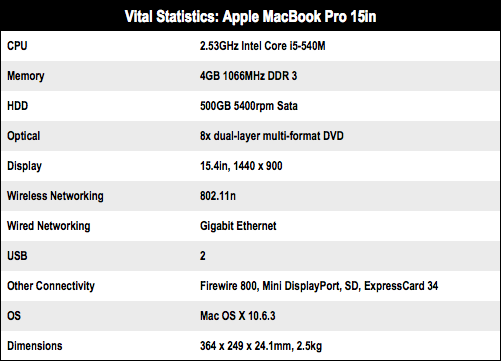 COMMENTS
Thanks, but no thanks.
You certainly can buy a 'similar spec' machine for £599, but it'll be 2kg heavier, 2cm thicker, have a 2h battery life, a miniscule trackpad, no firewire, and a plastic-fantastic case.
You get what you pay for.
As a proud owner of a 13" MBP I can happily say it's the finest computer I've ever bought. Worth every penny.
Buy one of those then, no one cares!
Mac's are a luxury, it's not about spec vs price! It's about the whole user experience - they're beautiful machines to use. Mac OS X is almost flawless and in the 5 years I've been using them, I've had about as many crashes, none of which required a reboot.
I work as a third line network systems administrator with Windows servers and workstations, and trust me, it's worth having a Mac to go home to after tearing your hair out all day with PCs. They just work, it's true.
It's worth it
I have the previous generation 13" Macbook Pro (actually quite similar to this generation's 13" MBP which didn't get the Core i5 processor either) and all I can say is, they're well worth the extra. The aluminium unibody design makes them look great, but it also makes them more solid and better built than pretty much anything else you can compare them to - typing on one of these is an absolute joy, since they've absolutely zero creak or give - the keys all have nice feedback, but beneath them you're typing onto a slab of solid aluminium. Similarly the trackpad has the same positive, solid feel - although it's capable of much more fluid and flexible gestures than most.
Saying nice things about Apple computers invariably leads to some kind of holy war, but once you've used one for any length of time - and made the effort to learn the ways of OS X and main Mac apps - it's easy to see why people passionately defend them, and less easy to see why anyone would champion cheaper PCs. Sure, if you're on a tighter budget the average PC will do many if not all the same things, but then a Vauxhall Corsa will also drive you anywhere you need to go - that doesn't make it the best car, or the only one to consider.
Magsafe Plug Removal
If you push down on the top corner near the cable then the plug will ease off quite nicely. You'll break the magnetic seal more easily this way rather than trying to pull it off in one go.
Corvette vs Ferrari 475 (See Top Gear)
The Corvette is very slightly faster and has more "toys". The Corvette is plastic, the Ferrari is all metal. The Corvette costs less than half the Ferrari.
Which would you choose?
Not all consumer choices come down to a game of top trumps specs.