Apple MacBook Pro 15in
Class act
Review Remember the Apple PowerBooks? They were pants. Of course, I didn't know this at the time. It's only now, having had the chance to play with Apple's latest MacBook Pro, that I realise that everything that came before it was so dreadfully ordinary.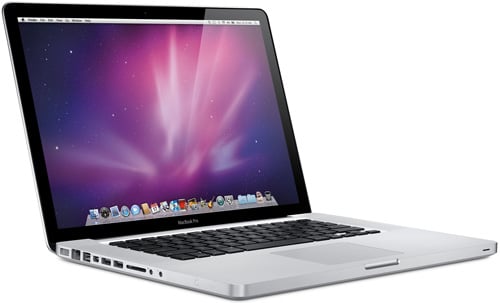 Apple's MacBook Pro 15in: now with Core i5 or i7 CPU options
Apple's latest series of MacBook Pro computers are available in three models according to screen size - 13in, 15in and 17in - and a restricted range of Intel processors. The product tested here is the mid-range model that Apple probably expects to sell in the greatest numbers: a 15in unit fitted with an Intel Core i5-540M (dual-core, four thread) processor running at 2.53GHz.
For this new range, Apple has almost completely dispensed with its curvy design legacy. Apart from its four rounded corners, the MacBook Pro is a straight-edged notebook in which right-angles are the fashion of the day. It's also much slimmer than I had imagined: indeed, it is just 5mm thicker than the innovative MacBook Air.
There is no clasp since a powerful magnet keeps the clamshell securely closed. Once the unit is open, you can tilt the display back on its hinges without having to hold down the base unit to stop it toppling over. This notebook is perfectly balanced. The rubber feet, although not terribly grippy, are set almost flush with the base.

The minimalist styling continues unabated
The 15.3in glossy widescreen display is surrounded by a flush bezel in jet black, with an iSight webcam embedded in the bezel above the screen. The 1440 x 900-pixel display is razor sharp and very easy on the eye.
COMMENTS
Thanks, but no thanks.
You certainly can buy a 'similar spec' machine for £599, but it'll be 2kg heavier, 2cm thicker, have a 2h battery life, a miniscule trackpad, no firewire, and a plastic-fantastic case.
You get what you pay for.
As a proud owner of a 13" MBP I can happily say it's the finest computer I've ever bought. Worth every penny.
Buy one of those then, no one cares!
Mac's are a luxury, it's not about spec vs price! It's about the whole user experience - they're beautiful machines to use. Mac OS X is almost flawless and in the 5 years I've been using them, I've had about as many crashes, none of which required a reboot.
I work as a third line network systems administrator with Windows servers and workstations, and trust me, it's worth having a Mac to go home to after tearing your hair out all day with PCs. They just work, it's true.
It's worth it
I have the previous generation 13" Macbook Pro (actually quite similar to this generation's 13" MBP which didn't get the Core i5 processor either) and all I can say is, they're well worth the extra. The aluminium unibody design makes them look great, but it also makes them more solid and better built than pretty much anything else you can compare them to - typing on one of these is an absolute joy, since they've absolutely zero creak or give - the keys all have nice feedback, but beneath them you're typing onto a slab of solid aluminium. Similarly the trackpad has the same positive, solid feel - although it's capable of much more fluid and flexible gestures than most.
Saying nice things about Apple computers invariably leads to some kind of holy war, but once you've used one for any length of time - and made the effort to learn the ways of OS X and main Mac apps - it's easy to see why people passionately defend them, and less easy to see why anyone would champion cheaper PCs. Sure, if you're on a tighter budget the average PC will do many if not all the same things, but then a Vauxhall Corsa will also drive you anywhere you need to go - that doesn't make it the best car, or the only one to consider.
Magsafe Plug Removal
If you push down on the top corner near the cable then the plug will ease off quite nicely. You'll break the magnetic seal more easily this way rather than trying to pull it off in one go.
Corvette vs Ferrari 475 (See Top Gear)
The Corvette is very slightly faster and has more "toys". The Corvette is plastic, the Ferrari is all metal. The Corvette costs less than half the Ferrari.
Which would you choose?
Not all consumer choices come down to a game of top trumps specs.