IBM freshens up System x servers
More Xeons and now Nvidia GPUs
New hotness: GPU coprocessors
IBM has also rejiggered its iDataPlex dx360 M3, which was originally launched in an M2 product supporting Intel's four-core "Nehalem-EP" Xeon 5500 processors a year ago. With the dx360 M3, the machine is a 2U compute node, just like the M2 model from last year, with two stacked trays for supporting compute resources. Each tray in the dx360 M3 can be configured with a two-socket Xeon 5600 server with 16 memory slots, or up to 128GB using 8GB memory sticks. Each tray also has room for two 2.5-inch disks and two PCI Express 2.0 slots for linking in InfiniBand or Ethernet connectivity above and beyond the two Gigabit Ethernet ports on the system board and the 100Mbit Ethernet port for the on-board service processor.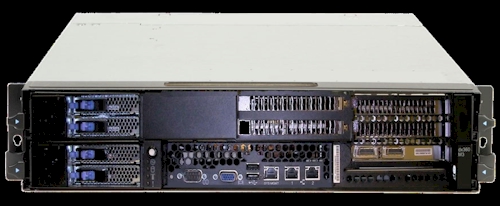 The IM iDataPlex dx360 M3, seen here with Nvidia Tesla M20s on top.
But with the M3 variant of the dx360, the upper tray can now be equipped with two of Nvidia's Tesla graphics coprocessors. IBM is supporting the old Tesla M1060 or the new Fermi-based M2050 GPU coprocessors in this iDataPlex node. This is the first time one of the big tier-one server makers has endorsed the Nvidia GPU coprocessors inside their machines, although whitebox server and motherboard maker Super Micro and niche supercomputer player Appro International were first out the door two weeks ago supporting the embedded M2050 Fermi co-processors.
HP and Dell, which have considerable stakes in the HPC racket, have not put the embedded M series co-processors into their rack or blade servers, but as the CPU-GPU hybrid computing model takes off, you can bet they will. Perhaps next week, in fact, at the International Super Computing conference in Hamburg, Germany, or at SC10 in New Orleans in November.
The M2050 GPU co-processor is rated at 515 gigaflops of double-precision and 1.03 teraflops single-precision floating point performance and is a fanless card that plugs into the PCI Express bus to allow mathematical calculations to be offloaded from the CPUs, which have a lot less computing oomph these days.
The iDataPlex rack is not a normal 42U server rack, but rather a half-depth, double-wide rack with two vertical stacks of iDataPlex server chassis, which have different tray options inside the chassis. The iDataPlex rack has 84U of server space, and that means it can hold 42 of the 2U dx360 M3 compute nodes that accept Nvidia Tesla co-processors, for a total of 86.5 teraflops of GPU oomph per rack (at single precision).
IBM only sells the iDataPlex gear on a special-bid basis, so no word on what the hybrid CPU-GPU nodes might cost.
Tuesday also saw IBM expand its new System x3850 X5 servers, sporting Intel's "Nehalem-EX" Xeon 7500 processors. When the x3850 X5 came out at the end of March, it was just a four-socket server sporting IBM's eX5 chipset. The x3850 X5 did not support the new Max5 memory expansion chassis, a 1U box with 32 DDR3 memory slots that use the eX5 chipset to link them to the 64 memory slots in the server proper.
Think of the Max5 as a server node in a NUMA cluster that just so happens to not have any processors in it and you will see how it works.
IBM said that the x3850 would eventually scale to an eight-socket box and would also support the Max5 memory extensions, and that happened Tuesday. In fact, each node in the two-node, eight-socket configuration of the x3850 X5 server can have a Max5 memory expansion unit, for a total of 192 memory slots across 64 processor cores using the top-bin eight-core Xeon 7500s. That's 1.5TB of main memory using 8GB memory sticks.
IBM supports 16GB sticks in this x3850 X5 machine, at $1,549 a pop, which is nearly the same price per gigabyte it charges for 8GB sticks - so if you are thinking about going dense on the memory, you might was well go all the way from the beginning. (8GB and 16GB sticks costs about a third more per gigabyte than 4GB sticks at IBM list price.)
The Max5 memory expansion module costs $7,495, so for certain workloads and configurations, using 16GB sticks in the main chassis makes more sense than adding the Max5 unit and trying to save money using 4GB sticks to build up capacity - do a little back-of-the-envelope capacity planning and then the math before you buy.
A base x3850 X5 with two four-core, 1.86GHz Xeon E7520 processors, 4GB of memory, and no disks costs $9,049. An x3850 X5 server with four of the eight-core, 2.26GHz Xeon X7560 processors, 96GB of memory, and no disks runs to $45,246.
One last thing: IBM says that the Max5 memory extension feature is designed to be seamless as far as operating systems go, but that VMware's ESX Server 4.0 hypervisor cannot see the memory extender - somebody wrote their code a little too tightly to the iron. A future release of ESX Server will support the Max5 feature, however. ®
Sponsored: Minds Mastering Machines - Call for papers now open