Juniper rolls out multi-product attack on Cisco
'We're the future. They're the past'
Juniper cares
In addition to his discourse on the glories of the 3-2-1 networking-architecture roadmap, Johnson and his team also had a more prosaic purpose for inviting we few dozen observers to his company's campus - namely, the introduction of new products and services.
On the services side, Johnson introduced a new enterprise-level support service called Juniper Care Plus, which it will ramp up in the fourth quarter of the year. Enterprises will be provided with an individual Designated Service Manager, plus automation and migration tools, and training on the various components of Juniper's Junos network operating system.
On the hardware side, Juniper enterprise marketing VP Mike Banic introduced the new 48-port EX4500, an autosensing 10/1 Gigabit Ethernet switch that's an upgrade of - and interoperable with - the company's EX4200 switch, to be available this quarter.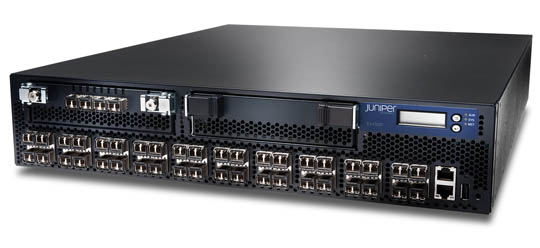 Juniper's new EX4500 10/1 Gigabit Ethernet switch
In another slap at Cisco, Banic noted that the EX4500 "includes layer-three software in the base license, a stark contrast to our competitor, the Cisco Nexus 5000, which doesn't offer layer-three at all." Banic also claimed that the EX4500 delivers five-times-lower latency than the Nexus 5000 while consuming half the power and costing about a fifth less.
Banic also introduced the EX8200-40XS line card, a 40-port, autosensing 10/1 Gigabit Ethernet card. "In contrast to our in-class competitor, the [Cisco] Nexus 7000," he said, "this new line card helps the 8200 [deliver] 25 per cent higher density in a single chassis, and two and a half times the density in a single rack...[at] 25 per cent lower cost per port." The card will be available in the third quarter of this year.
The final chunk of hardware introduced Monday was the MX80 3D router, a 3.5-inch edge router originally announced in October 2009.
A quartet of software announcements were made by Juniper's general manager of Junos Space, Mike Harding.
Virtual Control is an open, web-based app that integrates into VMware's vSphere to manage both physical and virtual networks. Virtual Control is designed, as Harding put it, to "attack one of the most annoying aspects of making the network aware of virtual machines, which is human error". It's scheduled to be available in the third quarter of this year.
The second software element Harding introduced was Ethernet Design, available today. Ethernet Design allows a network administrator to perform what Harding called "one-touch provisioning" for one to thousands of nodes, and to build custom and easy-to-apply profiles for such attributes as Quality of Service.
Number three, Security Design, is intended to bring security management to "mere mortals", in Harding's words, and number four, Service Insight, is "all about detecting risk, and allowing our customers and our partners to take action on the basis of having the right information at the right time to avoid outages and problems all together".
To find out how well Service Insight lives up to that grand promise, we'll have to wait until the third quarter. Security Design will be available this quarter.
Juniper's final announcement at the Monday event was a new "dynamic security model" that includes AppTrack and AppSecure software for the company's SRX Series Services Gateways to provide app-level security and protection against distributed denial-of-service attack, plus Junos Space Security Design software and what the company calls "deep malware protection" through a new partnership with FireEye.
As we said earlier, Juniper's announcements add up to an aggressive push, and the company's frequent comparisons of its new products and initiatives to one and only one competitor make it clear that it's aiming its sights just a few miles east at 170 West Tasman Drive in San José, California. ®
Sponsored: Minds Mastering Machines - Call for papers now open