Hadoop takes Big Data beyond Java
Stuffed elephant mates with Python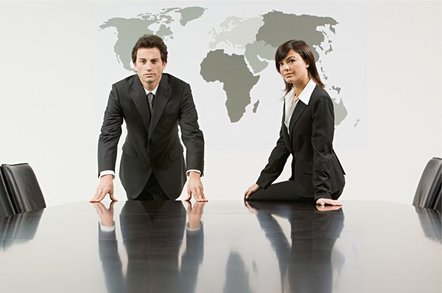 Apache Hadoop, the open-source version of Google's MapReduce architecture named after a kid's stuffed elephant, is still working to tame the 1.0 beast.
Only a year ago, Hadoop hit its first stable release, a release that - in true open-source fashion - couldn't be called version 1.0 but contained two decimal points: version 0.20.0.
Despite that, Hadoop is running search on some of the internet's largest sites. Lovers on eHarmony, job seekers on LinkedIn and social networkers on Fox Interactive Media - Rupert Murdoch's media arm running MySpace, Photobucket, and Rotten Tomatoes - are getting their queries answered thanks to Hadoop.
During a recent interview with The Reg, Hadoop co-founder Doug Cutting confessed his surprise at Hadoop's level of uptake and success. "I started Nutch [Hadoop's precursor] trying to think about web search ... I was trying to be provocative," he said.
"I didn't see us outside the production environment of building these big web indexes."
And yet, a year since that first stable version and months after Cutting discussed Hadoop 1.0 at ApacheCon last year, version 1.0 - promised for 2010 - is proving elusive.
The project is working towards a goal that's a must for any piece of technology that wants to be taken seriously in business: the ability to upgrade without injecting breaking changes, changes that force users to re-install their software or cause data loss. In Hadoop's case, the goal is to let users upgrade parts of a data center cluster without uprooting the whole thing.
Different priorities
Cutting says that his former employer, Yahoo!, a huge sponsor and early fan whose support made Hadoop possible for others, isn't helping. Yahoo! remains Hadoop's single largest contributor, and that's a challenge, Cutting says, because Yahoo! has a slightly different focus than the rest of the project.
The web's second largest search property, he says, has been working on security updates so people can share large clusters in private, without others knowing what they're doing.
While security is a goal of Hadoop. 1.0, Cutting says that Yahoo!'s focus comes at the expense of work on a broader front. "That's taken some of the steam of the 1.0 efforts," Cutting said. "Hadoop 1.0 has not made as much progress as we'd have hoped."
It's an interesting twist.
Yahoo!'s intervention in Hadoop proved decisive in the early days, helping boost the project to success. With Google thrashing the company in the 2000s, Yahoo! clearly saw something in Hadoop that few others had noticed. Yahoo! saw it not just as web search indexing project, but as an architecture that could handle distributed number crunching for all sorts of services.
That architecture is based on Google's own distributed file system (GFS) and MapReduce. Before GFS and MapReduce, Cutting had built a full-scale web search engine called Nutch, something that started in 2002. However, things hit a wall. "We had something that kind of worked and was in theory scalable to the entire web, but was very painful to use on anything more than 100 million web pages," Cutting said.
Sponsored: Minds Mastering Machines - Call for papers now open