Samsung NX10
Big sensor hybrid to worry the Micro Four Thirds faithful
While the 30mm lens is fast and bright, the two zooms have quite slow maximum apertures. Performance wise the pancake lens seems to be the best of the three, producing sharp images with no evidence of chromatic aberration and very mild barrel distortion. The two zooms suffer from some softness and distortion at the edges but no more than expected and image results still presented nice detail and sharpness. The 18-55mm showed a slightly better image than the tele-photo lens, which at 800 ISO revealed quite a bit of fuzziness and some colour fringing.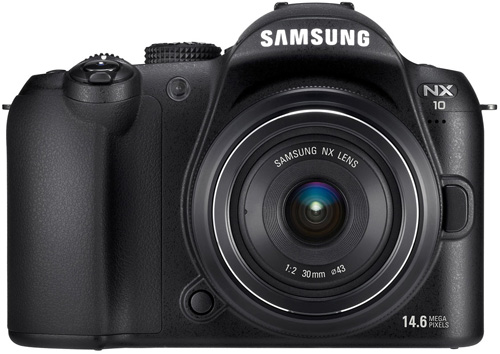 Image stabilisation only appears on the zoom lenses, the fixed 30mm pancake lens goes without
Despite my initial misgivings about how noise performance has been traded for a higher pixel count, overall, the NX10's ISO performance is actually pretty good for most scenarios. The camera has an ISO range of 100 to 3200 ISO and there is no trace of noise up to 400 ISO. But even at 800 ISO the 30mm fixed focal length produced very smooth and fine-detailed pictures. At the fastest speeds, while showing visible noise deterioration, it delivered still usable images.
One gripe is the Auto ISO function was rather disappointing. It has a tendency to select such low speeds that night photography in scene mode mostly resulted in blurred images, such as the door shot here. The camera tended to select a maximum ISO speed of 400, thus generating automatic shutter speeds too slow for many hand-held photos in low light. To get a steady night shot I had to put the camera on manual mode and select higher ISO speeds. The results were coarser, but shake-free.
Generally, I was really impressed with the overall quality of the images of this new Samsung. The colours were punchy yet realistic, flesh tone was natural and fine details were beautifully resolved. Exposure metering was nearly always spot-on, producing rich, perfectly balanced images.
For high contrast scenes the NX10 provides Smart Range, a feature that increases dynamic range to provide better balance between highlights and shadows. As you can see from the included shots the effect is mild enough to keep the natural contrast of the image while doing a good job at toning down high-key areas.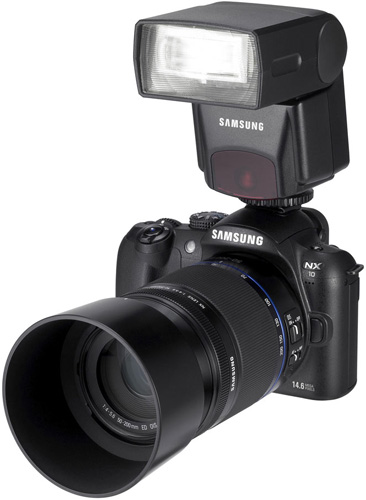 Autofocus proved to be swift and trouble-free
The NX10 is as fast a shooter as any good entry-level DSLR. Start-up time from switching on to shooting is less than a second, shutter delay is negligible and the Autofocusing system is impressively swift and accurate. Its Burst Mode allows continuous shooting of up to 3 frames per second for an unlimited time at full resolution (JPEG only) or 30fps for a burst depth of 30 images at 1.4Mp JPEGs.
Sponsored: Minds Mastering Machines - Call for papers now open