Swiss watch auctioned for £3.76m
Very expensive Patek Philippe collectible
A private Swiss museum has stumped a cool 6.26m Swiss francs (£3.76m) for a "unique" Patek Philippe perpetual calendar chronograph watch, which now has the honour of being the most expensive yellow gold watch ever to sell at auction.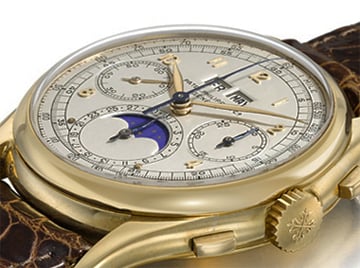 According to Christie's, the 1943-44 timepiece (pictured) features "an avant-garde case design and was a forerunner for future generations of complicated wristwatches". Aurel Bacs, of the auctioneer's watch department, described it as the "Mona Lisa of all watches".
Monday night's sale in Geneva saw European bidders "fiercely challenged by international collectors, especially buyers from China", Bacs explained. Quite who finally secured the prize is unknown, but Reuters notes that Geneva is home to a Patek Philippe museum which "displays exceptional pieces by the independent Swiss watchmaker".
The seller, who scooped a total of 16m Swiss francs (£9.6m) for the 20 pieces he presented for sale, also preferred to remain anonymous. He did, though, explain: "I started buying watches in the 1970s, at a time when these amazing objects appealed to very few collectors and even fewer scholars were exploring this charming field. In my opinion, wristwatches are the most beautiful wearable item created in the 20th century." ®
Sponsored: Fast data protection ROI?