Intel: Social netizens conquering the earth
1.8bn PC-addicted webbies online for 18.8 trillion minutes
Even during the depths of the Meltdown, consumers kept buying PCs. And increasingly the "killer app" for desktop, notebook, and netbook users was social networking.
Or as Tom Kilroy, head of Intel's sales and marketing, called the interactive internet craze Tuesday morning in his keynote presentation at the company's investors meeting: "Cloud media."
Kilroy showed the assembled investors and reporters a chart that illustrated consumers' addiction to PCs by charting worldwide consumer and non-consumer total addressable market (TAM) numbers against worldwide gross domestic product (GDP) from 2001 through 2010: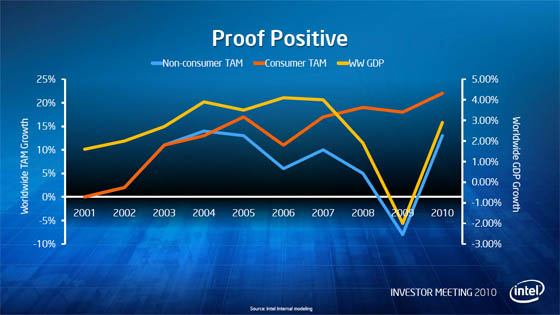 When the economy tanked, consumers kept on buying desktops, notebooks, and netbooks
Despite the worldwide financial panic and rampant unemployment, consumers kept buying PCS - and increasingly, they bought them so that they could hop onto the intertubes and share their innermost secrets with friends and strangers.
Before Kilroy shared not his secrets but his stats, CEO Paul Otellini had shown the results of a Morgan Stanley study of worldwide internet use. At the end of 2009, according to the study, there were a total of 1.8 billion connected souls on planet earth, a 13 per cent increase from the year before.
Of those 1.8 billion, the top country in both total users and speed of growth was China, with 384 million users, up 29 per cent year-on-year. India was the second-fastest growing country, with a 23 per cent increase to 130 million. The US had the second largest number of users - 238 million - but its growth rate was a mere 4 per cent.
"Guess what? Virtually everybody [in the US] who wants to be on the internet is on the internet already in this country," Otellini said. If and when China reaches that level of saturation, there will be well over 1.2 billion internet users in the Middle Kingdom.
Other fast-growing countries cited by Otellini were Brazil with 67 million users, up 14 per cent year-on-year; and Russia with 39 million users, up 13 per cent. He also noted that the total number of minutes spent on the internet during 2009 was 18.8 trillion, up 21 per cent year-on-year.
Kilroy brought home the point that instant messaging, social networking, and entertainment vie for the top spot in internet usage - and by instant messaging, he explained, he also meant audio and video chatting.
These numbers varied greatly depending on the geographical area involved. In the Middle East and Africa, for example, instant messaging amounted to over 29 per cent on time connected, while in North America only 5.6 per cent of online time was messaging time. North Americans, however, use email more than Europeans, 12.3 to 5.2 per cent.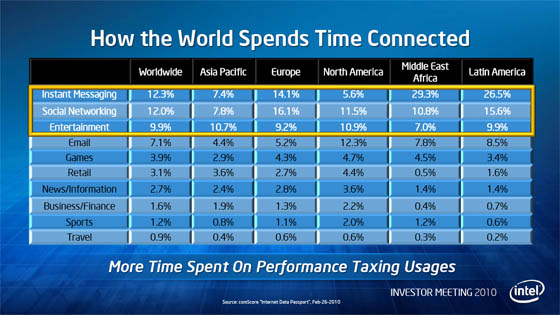 How the internet is used varies by area - and, of course, by that area's economy
But Kilroy's main interest was social networking websites. The old measurement, he said, was connections to the internet. Now, he explained, "It's not connections to the internet, it's connections to each other."
In April of this year, Kilroy said, a Morgan Stanley survey found that there were 859 million unique users of social networking websites - that's just under half the total number of internet users.
Of those social networkers, 471 million are on Facebook - but Kilroy was quick to point out that 70 per cent of Facebookers are outside the US. There are 71 million Twitterers. The Google-operated site Orkut has 52 million members, just about half of which are in Brazil and one-fifth in India. France's Skyrock has 20 million; Russia's Vkontakte, 25 million; China's Renren, 34 million; Baidu Space, 54 million; and Tencent, 46 million.
And these numbers may very well be conservative. For example, Morgan Stanley's data covers only one of Tencent's web properties, and Kilroy said that that company's founder told him that Tencent has 500 million social networkers on their four properties in China alone. China Analyst has said that Baidu Space has topped 100 million users. And, of course, there are dozens of other social networking sites, from Friendster to Nate to MySpace to Badoo.
And the amount of bandwidth being consumed by social networking is enormous. Kilroy offered no stats on bandwidth-gobbling online video uploads and downloads, but he did note that Facebook says that three billion photos are uploaded to it monthly, with Tencent close behind at 2.8 billion. In Latin America alone - mainly Brazil - Orkut handles 800 million new photos per month.
Kilroy also pointed out that those photo-happy Brazilians spend more time on social networking per person than do citizens of any other country. The number two country is Turkey. The US pulls in at number nine. ®
Sponsored: Minds Mastering Machines - Call for papers now open