Samsung confirms e-book reader's UK debut
SNE-60 inbound
Samsung will release its SNE-60 e-book reader in the "coming months", the consumer electronics giant said today.
The SNE-60 first appeared earlier this year at the Consumer Electronics Show (CES) as the E6. It has a 6in, 600 x 800, eight-level greyscale E Ink display and on-board Wi-Fi built into is 171 x 120 x 16mm, 315g frame.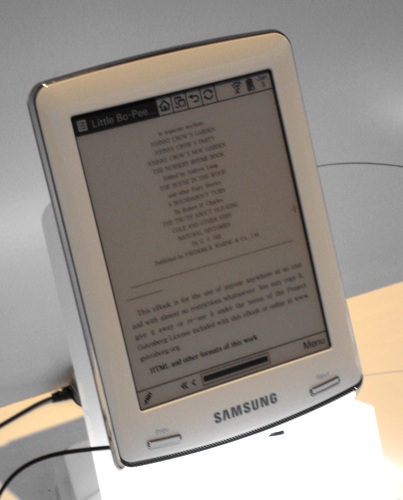 Samsung's SNE-60: coming soon
It has memory sufficient of 1200 e-books, plus an SD card slot for more. It'll handle text, PDF and ePub files.
A built-in MP3 player allows users to listen to audio books, or to listen to music whilst reading. And the SNE-60 has a text-to-speech engine with "accurate pronunciations".
All good stuff, but there's still no word on what Samsung will charge for all this. ®
COMMENTS
To a point
While I agree that the Samsung UI selection isn't ideal, some of what's on there is what you would see on a book (page, title). I prefer the layout used by the Nook, with a separate bottom touch screen for all the items like music player, font size, TOC, etc.
Still better than iPod. Really love the eInk screens for easy reading. Backlighting is just too much after gazing on my work screen for 10 hours a day. Probably would put it about Kindle too, given support for PDF and ePub.
Eww
What is all that GUI cruft doing on the display, where there should just be the book I'm reading ?
Poor experience...
Looks nice!
Is it a thump-sensitive screen like my Sony?