Lexar Echo ZE ultra-compact backup drive
Backup you can just forget about?
Lexar, what is the point of offering a back-up drive that's so invisible to the user it defeats the object of having a backup drive in the first place?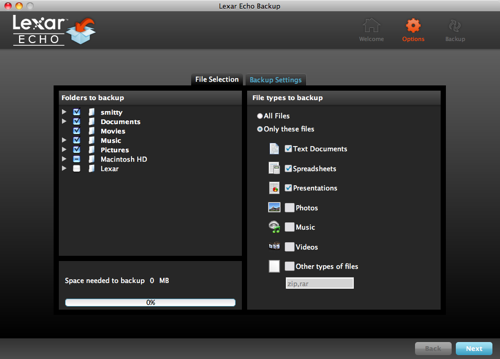 The bundled backup app does the job
Lexar has two drives in the Echo line: the 32GB ZE and the 64GB SE. To be fair, the SE doesn't suffer from the same 'forget about it' problem that the ZE does - it's a standard-sized USB stick, but it too has the downside that it's not big enough for a full backup. Even netbooks come with 256GB hard drives these days and they're surprisingly easy to fill.
Both types of Echo contain auto-backup software for Windows XP, Vista and 7, and Mac OS X 10.5 and up. The program works reasonably well, allowing you to choose whether you want the files copied across as they are, or encrypted and password protected first.
You can opt to backup the entire drive, specific folders and/or specific file types. You can keep multiple versions of each file too, storage space permitting. Recovery is a matter of locating the backed up file in the hierarchy and restoring to the original location or a new one.