Benchmark Tests
PCMark Vantage Results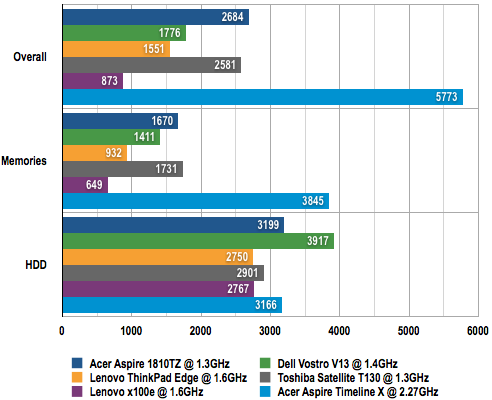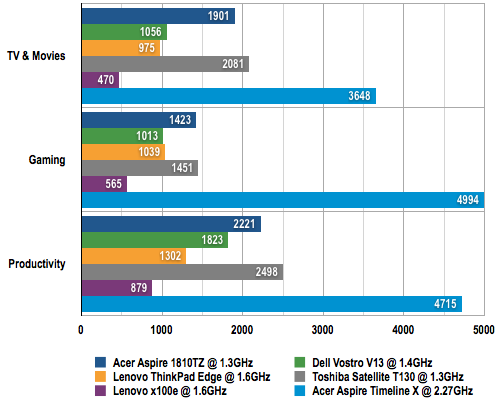 Longer bars are better
Battery Life Results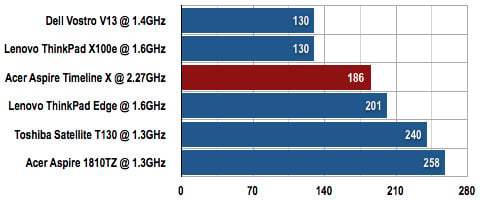 Battery life in Minutes
Longer bars are better
COMMENTS
You can put the live CD in before you shut down
It's not like you have to stand by the PC waiting for post and then open, put in the cd and then shut it again.
I normally just burn a distro (or more recently make a bootable USB stick), leave the disk in the drive and hit reboot.
Linux
Can't pop in a LiveCD if the DVD drive has no external eject button...
(I say use a paper clip to trigger the drive tray release and stuff it in that way, but who wants to carry a paper clip around???)
Correction. CPU not Quad Core
The i5-430 is not a Quad Core as stated in the review. It is a Dual Core but it does have hyperthreading which makes it show 4 processing units to the OS and gives it better threading performance than a dual core.
No Eject Button on DVD Drive?
So when the HDD is borked, how do you open the tray to boot the system from an OS install disk?
Its a shame...
...that you cannot test both the headline model (the 4820T) and the nicer spec'd (4820TG) high end version. IF 12 hours battery were achievable it would be interesting to see the graphs (and performance droop) as it is we only see graphs for what you have and the 'false' marketing claims leave a taint on this model, which is a shame as it looks quite good.