The narrative slowly builds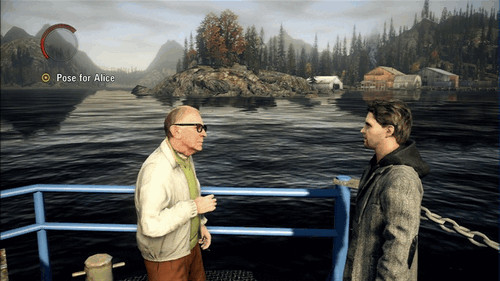 All gramps on deck
Awash with such references and in-jokes, the game's first hour proves unabashed of its inspirations. Aside from a brief introduction to game mechanics by way of a dream sequence, this opening hour builds the narrative slowly.
You start aboard a car ferry, during a bright summer's day, as you make your way across the bay towards Bright Falls. It's your first good look at the game engine, and it doesn't disappoint.
The draw distance is incredible. And the visuals themselves are matched only by the authenticity of the scene. No detail has been overlooked, from distant looming mountains and a train rumbling over a steel bridge, to the purse seiner docked next to the warehouses and the flocks of squawking seagulls overhead.
The graphics easily rival those of Unchartered 2, and immediately dispel fears that Alan Wake's development origins on the first Xbox would leave a legacy of poor polygons and flat textures. The cut-scenes are equally beautiful, leaving only facial animations and lip syncing open to criticism, which, although adequate, are incongruous to the otherwise eye-bleeding visuals.
As each of the game's six episodes start during daytime, you'll have plenty of time to see Bright Falls in its most dazzling aspect. But it is darkness that forms the bulk of narrative and gameplay.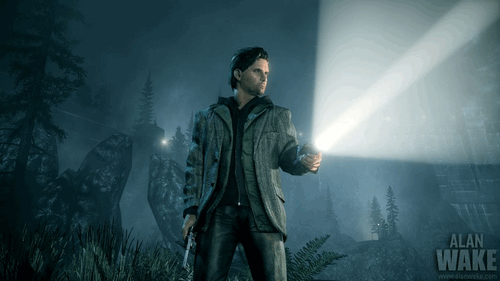 Michael Douglas always carries a torch
COMMENTS
Heavy Rain is good...
...if you have a PS3. For those of us with 360's Alan Wake is well worth looking at (unless you're afraid of the dark).
80% is rather generous IMHO
It does not look graphically that impressive (Not even HD). The areas are all rather samey, load times bothersome.
A Overhyped title. Better get Heavy Rain for a far better game of this genre.