Asus R101 netbook quietly flies in
Will hopefully avoid the French landscape...
Asus is gearing up to release its latest Eee PC netbook, and we hope it fares rather better than its namesake.
Details posted online by a German retailer reveal that the Eee PC R101 is based on Intel's 1.66GHz N450 Atom processor, comes with 1GB of 800MHz DDR 2 memory and a 250GB hard drive, and has the customary 10in, 1024 x 600 display.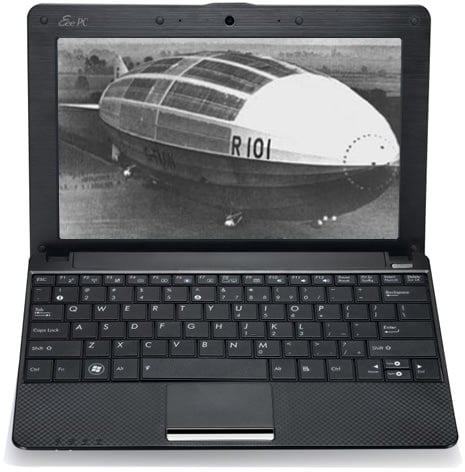 Asus Eee PC R101... and infamous namesake
The screen is driven by the GMA 3150 graphics core built into the Atom CPU. The netbook also sports a striking carbon-fibre look.
Ominously, the machine shares its name with the ill-fated British airship built at Cardington near Bedford and which plunged into the French countryside on its 1929 maiden voyage, bursting into a hydrogen-fuelled inferno and killing 48 passengers and crew - more lives lost than the Hindenburg disaster. ®
Via EeePCNews.de
COMMENTS
Oh
My guess before reading the article was that R101 stood for room 101, which would have been equally unfortunate. My room 101 has an iPad in it though.
eeeeee?
So Asus have ditched the eee thing then, good, bit of a poxy brand name really.
It looks very similar to the eee 1005HA-H I bought last August (typing on it now), same spec too.
Best netbook out there IMO, still getting 9+hrs of battery life, does me a whole week of commutes to/from work and I don't even notice it in my bag (1.2Kg) I travel to the US a fair bit and this thing is genius for long-haul flights. I find myself using it as my main machine these days.
Netbook pricing... yes netbooks these days are more expensive than the originals.
But did anyone actually buy one of those £150 machines? How's that working out for you?
Battery life still around about 2hrs? Still got those thick black bars either side of the screen and 800x480 resolution? Filled up the 4GB SSD yet?
I'd much rather spend £300 on a incredibly usable netbook... than £300 on a cheapo blimp-sized Toshiba from PC World or sommat!
I mean come on, ipods cost about £200 don't they?
£250 for the netbook I've got right here... bargain
R101 Netbook.
Hi folks,
I wonder why they chose the name of a famous British airship that crashed in France on its first flight from England to India. The R101 hit a hill in bad weather at night, but the only reason anyone died was because it was filled with explosive Hydrogen rather than Helium which puts fires out.
Perhaps they are warning owners it might overheat and catch fire one night. If you want to see a comedy site on airships try www.airship.me that has lots of funny pictures and U tube links.
Regards Bond, James Bond (www.airshipblimp.com) Skyship driver in A View to a Kill.
Same specifications?
Different CPU, for a start.
Re: eeeeee?
Guess what, the the fiancée has just bought me a new HP210 for my birthday. So I'll have to put the loyal old EEE PC out pasture.