Microsoft UK researchers roll out barrel in Cambridge
But it's full of fish
Microsoft Research Microsoft invited a bunch of hacks to its UK research headquarters last Wednesday to walk us through a fairly pedestrian showcase of the software giant's latest tech development.
Unlike in 2009 when the company had its big iPhone - sorry, Surface technology - as the centrepiece of its R&D work to show off, this time around Microsoft's efforts seemed underwhelming by comparison.
Image processing was given a big push at Microsoft's Roger Needham Building on J J Thomson Ave in Cambridge, which the company's UK boffins will be leaving in the summer of 2012 for a new purpose-built home on Station Road.
Interestingly, the Cambridge team declined to tell me how much, if at all, the UK Microsoft researchers' budget had suffered as a result of the planned move two years from now.
Instead, the boffins were keen to talk tech. But much of the good stuff they highlighted at the event has already been shipped with products such as Visual Studio 2010, which uses the company's new F# language. And overall, the visit felt more like Microsoft was raking over its recent R&D spend without really having much new to show off.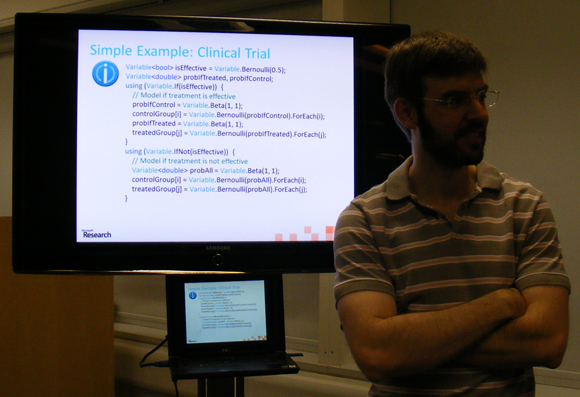 What exactly are you inferring?
So why are Microsoft researchers making lots of noise about image processing, which is an area the company isn't famed for pioneering in the tech world?
"The big product groups who are improving our products cycle-after-cycle want to find high technology, which will enhance the offerings they already have," said MS Research Deputy Managing Director Andrew Blake.
"Each time round they look for some area where they can make a bigger hit, and this time with Office 2010 they've looked hard at video and image processing."
There was also keen chatter, led by Microsoft Research UK Managing Director Andrew Herbert, about the company's efforts to create an operating system - dubbed Barrelfish - for multi-core computers and devices.
That OS differs from the traditional Windows-style platform, explained Herbert, because it is "based on explicit communications rather than the (illusion of) shared resources".
Microsoft isn't currently readying the prototype for product release, said Herbert, but that hasn't stopped researchers at the firm getting excited about the fact that Barrelfish is producing performance graphs that show latency - ie the time an app takes to run - holds much more constant even as the number of cores go up.
Sponsored: Minds Mastering Machines - Call for papers now open