RHEL 6 - your sensible but lovable friend
Ubuntu it isn't
What ever you want
As with previous versions of RHEL, the Anaconda installer will offer you a number of pre-configured sets of software packages depending on your needs. You can choose from the basic server configuration, web server packages, the desktop setup (GNOME by default), what RHEL calls a "software development workstation", or the bare essentials available in the "minimal" option. There is also an option to customize your installation further, selecting individual packages.
For testing purposes, I started with the basic GNOME desktop package, adding the server platform, along with common tools like MySQL, PostgreSQL, FTP server and e-mail server, as well as the new virtualization tools.
The RHEL desktop isn't the place to look for the latest and greatest in GNOME developments. While GNOME 2.30 was released earlier this year, so far it's not part of the default RHEL 6 beta installation. At least for the beta GNOME remains at 2.28, Firefox is stuck at 3.5, and OpenOffice is at 3.1.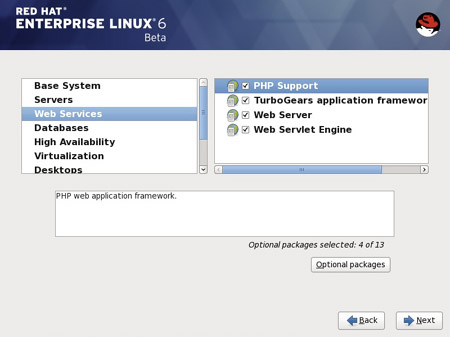 RHEL6 is what you want it to be, thanks to various install options
Red Hat has also gone the conservative route with a number of other GNOME packages. For example, it's opted for Pidgin over the less mature - but more feature-rich Empathy - that has largely replaced Pidgin in Fedora, Ubuntu and other desktop distros.
While many common software package haven't been updated to the latest releases that's to be expected from a conservative distro like RHEL, which has always erred on the side of stability rather than newest features.
RHEL 6 includes the same Nvidia hardware support found in recent Fedora releases and had no trouble automatically configuring out Nvidia graphics hardware.
Performance on the desktop matched what I've seen in recent releases of Fedora and Ubuntu - snappy even on somewhat dated hardware.
For casual desktop use, you're better off with one of the many free Linux distros available. As the name suggests, RHEL is aimed squarely at the enterprise market.
System Admins get some new tools in RHEL 6, most notably the new service System Security Services Daemon (SSSD), which provides central management of identities. SSSD also has the ability to cache credentials for offline use, handy if you're managing a large number of laptops that often leave the local network.
LAMP update
Of course, RHEL typically ends up on servers and there's good news to be found in the standard LAMP server stack. Just about everything is close to the latest stable version - Perl 5.10, PHP 5.3, Apache 2 and MySQL 5. Python remains at version 2.6 - it would be nice to have a parallel installable Python 3.x - and other software common on Cent or Debian servers (like Nginx and Memcached) remain absent from the basic RHEL server installation.
Red Hat hasn't yet set a final release date for RHEL 6, it is expected to arrive sometime before the end of 2010. In the mean time, you can grab the beta from Red Hat's website.
Is it worth the wait? For Red Hat's corporate and enterprise customers, the upgrade to 6.0 will be an important one - particularly those that need the virtualization and hardware support improvements. The only problem? That move from Xen to KVM, which may prove a stumbling block for many. ®
Sponsored: Minds Mastering Machines - Call for papers now open