The small screen makes web browsing a bit of a strain too and you don't get pinch-to-zoom, though that isn't quite the end of the world failing some would claim. If the Android browser doesn't suite you can snag Opera Mini from the market which goes about its business rather more briskly.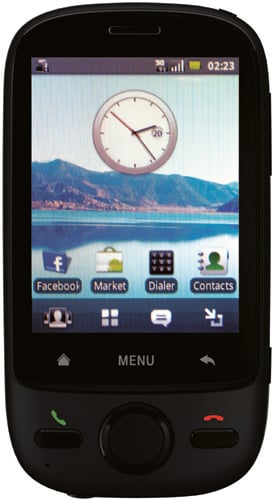 Very pocketable
The removable 1150mAh capacity battery is reasonable for a phone with Wi-Fi and GPS but if you use either regularly you will need to recharge often. Use them sparingly, though, and keep the Mini hooked up to the network via 2G rather than 3 and two days between charges is easily achievable.
I had no complaints about wireless reception or call quality which were neither remarkably good nor remarkably bad though the speaker sounded rather tinny and hollow.
For those of you who like the phone but not the telco, my review handset arrived unlocked but as it lacked the T-Mobile branded battery cover and 2GB MicroSD card I wouldn't want to guarantee that retail handsets will be the same. And don't forget that Vodafone will soon announce the full details and price of its own 2.8" budget Android 2.1 phone, the 845.
Verdict
At the bargain price of £100, the Pulse Mini gives you the bells and whistles and the very latest version of Android, all wrapped up in small, light and robust little package. For a hundred quid, I'm almost tempted to buy one myself despite the laggardly performance and poor camera. ®
More Android Smartphone Reviews

Sony Ericsson
Xperia
X10
Google
Nexus
One
HTC
Legend
Samsung
Galaxy
Portal

T-Mobile Pulse Mini
Budget PAYG Android smartphone that includes the latest version of the Google OS and lots more besides.
COMMENTS
A title
This phone shows exactly why Android will eventually beat Apple.
Hypocrite, much?
The UK doesn't have a flawless track record on human rights either.
Or have I only imagined the past 13 years or so of New Labour's illegal-invading, torture support, and civil-rights-eroding administration?
Looks good for the price
Looks like a good Android phone for the PAYG price it is being offered at.
It's not quite a Hero, but it does have the latest Android (which the Hero is nowhere near getting currently) including the sat nav.
It bodes well for next year's budget Android handsets, which will probably be 800MHz ARM Cortex A8s, rather than the 528MHz ARM11 that this phone has (and shared with the Hero).
HTC is taiwanese
can't say that Huawei is original but their main selling point is that as long as their design sells it doesn't matter how it's designed or whose styling cue they nicked it from.
@Dan Price
The popular consensus is that HTC stands for "High Technology Computer".
But I'm not one for letting facts get in the way of a good conspiracy theory.