Despite the small resistive screen and the rather uninspired design of the virtual Qwerty keyboard, the Mini proved easy to use without once having to wield the stylus.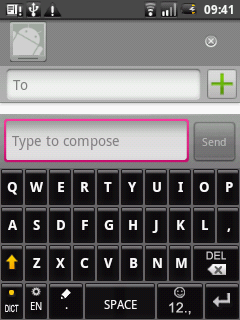 The virtual Qwerty layout is uninspired
The full keyboard works better in landscape, and the display quickly flips over when the phone is turned into its side. If you do find the full keyboard too small, you can chose from two alternative key pads with either two or three letters per key and an efficient predictive text system.
As an antidote to its rather diminutive size the Mini supports 15 home screen panels. As well as the usual five or seven arrayed left to right, the rest of the 5 x 3 grid can be accessed by swiping up and down.
If you get lost among all those screens, you can tap the centre of the navpad or one of the on-screen menu buttons and the main view zooms out to show all 15 letting you to move directly from one to another. Fifteen is frankly overkill for shortcuts - you could site 240 of the things - but it does let you deploy a useful number of full-page widgets.
More home screens than you can shake a stick at aside, the Mini runs Android as nature intended so you don't get any of the extras that HTC offers in its Sense overlay and nor do you get anything in the way of social network aggregation as you do with Motorola's Motoblur.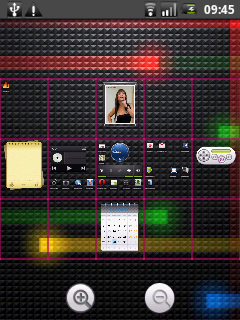 You get 15 home screens, no less, all accessible from an expanded view
That said, Android in the nude is still a looker and alongside the basics you have access to all the apps in the Android Marketplace.
COMMENTS
A title
This phone shows exactly why Android will eventually beat Apple.
Hypocrite, much?
The UK doesn't have a flawless track record on human rights either.
Or have I only imagined the past 13 years or so of New Labour's illegal-invading, torture support, and civil-rights-eroding administration?
Looks good for the price
Looks like a good Android phone for the PAYG price it is being offered at.
It's not quite a Hero, but it does have the latest Android (which the Hero is nowhere near getting currently) including the sat nav.
It bodes well for next year's budget Android handsets, which will probably be 800MHz ARM Cortex A8s, rather than the 528MHz ARM11 that this phone has (and shared with the Hero).
HTC is taiwanese
can't say that Huawei is original but their main selling point is that as long as their design sells it doesn't matter how it's designed or whose styling cue they nicked it from.
@Dan Price
The popular consensus is that HTC stands for "High Technology Computer".
But I'm not one for letting facts get in the way of a good conspiracy theory.