Mili HI-P60 Power Pico Projector
Turn your iPhone into a cinema
Yet burning up the Watts produces a measly 10 Lumens, a fraction of the illumination a regular projector is capable of. The Mili's liquid crystal on silicon (LCoS) micro display and lens can sharply project a 640 x 480 image at anything between 5in and 70in in the diagonal, but you'll need to do so in a very dark room indeed if you hope to approach - but never reach - the brightness of even a low-end LCD TV.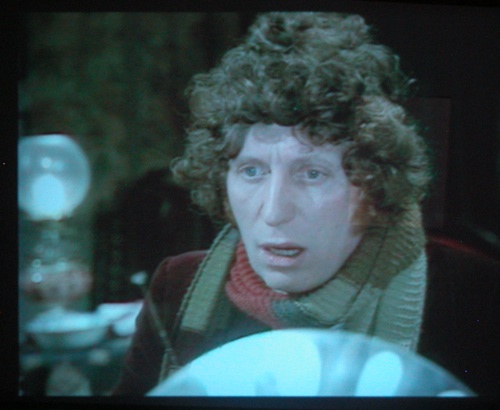 If only the projected picture wasn't so dark.
The photo does the projection more credit that it deserves
The Mili gives you a reasonable degree of control over the image - separate red, green and blue levels, brightness, contrast and so on, all accessed from the unit's on-screen menu using its compact remote control - but however you adjust it, the image remains just too darn dark for good viewing. Colours are well reproduced, but there's simply not enough light coming through.
The unit has a 2W speaker which is better than the iPhone's own, and it's handy to help compensate for out the persistent drone of the projector's cooling fan, but not the audio interference generated by the projector's own electronics, at least in the review sample.
Add all that some minor irritations - the curved corners of the stand make it easy to knock the projection off true, the main hinge isn't quite strong enough to keep the lens pointing where you set it - and the fact that the Mili costs £240 takes the shine off this portable projector.
Verdict
I like the Mili's convenience and idea of having an ad hoc DIY cinema for a small group of viewers. I can put up with the wimpy speaker and the noisy, hot operation - nothing there you wouldn't expect from any other projector. But I can't see an audience sticking with the Mili's murky output for an hour let alone two. ®
More Projector Reviews

Acer
H5360
Optoma
HD20
Hitachi
CP-RX80
LG
HS102
Sponsored: Minds Mastering Machines - Call for papers now open

Mili HI-P60 Power Pico Projector
Compact, ultra-portable projector ready for the iPhone and other video sources.