2010 Fifa World Cup South Africa
Off-side
Worse still are the crowd animations
Worse still are the crowd animations. EA has reduced football fans the world over to little more than gawping, guppy-mouthed bags of flesh, prone to raving incessantly in invisible custard. OK, so perhaps that's not too far removed from the typical England fan.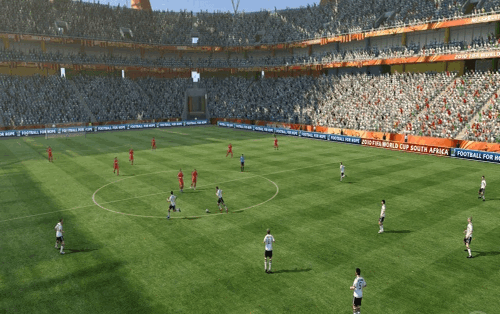 Looks like a bad kick off
The only substantial addition to the Fifa experience is an optional, simplified two-button control setting. EA obviously hopes World Cup hysteria will entice non-gamers to pick up a control pad during half-time intervals, and perhaps even see your granny on the score sheet. But in practice this functionality is broken, as the computer-assisted passing rarely agrees with your intention.
Of course, most of these criticisms can be levelled at the entire Fifa series. EA has always been comfortable with charging top-dollar for minor improvements in annual iterations. But 2010 Fifa World Cup South Africa feels like a rip-off too far, especially given Fifa 11 will be released within six months. And while it won't be the only rip-off we'll see branded in official World Cup colours this year, it's one I can't recommend at the premium price point.

2010 Fifa World Cup South Africa
An excellent game if you don't already own Fifa 9 or 10. But a cynical, rushed World Cup tie-in if you do. Available on Xbox 360 (tested), PS3 and Wii