2010 Fifa World Cup South Africa
Off-side
Menus and backgrounds are saturated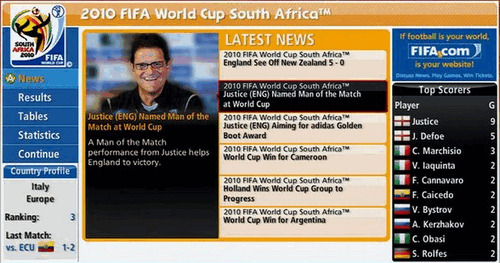 What stat?
Menus and backgrounds are saturated in the official burnt-savanna oranges and yellows of this year's competition, and the radio playlist breezes smooth Reggae, African Dub and Bossa Nova.
Pared back by the World Cup format, gone are the club teams, league and cup competitions of regular Fifa titles. Instead, the default play setting is to take one of the thirty two qualified teams through the seven games required to lift sporting's greatest trophy.
Additional modes let you play through the entire qualifying campaign, or re-enact classic scenarios in the Story of Qualifying. For the more egocentric, Fifa's Be a Pro returns as Captain your Country, which sees you start off as a second-stringer, playing to secure a first-team call up and ultimately fight for the captain's armband and the World Cup itself.
While bolstering variety and longevity, these additional modes fail to lessen a pervading feeling that this is Fifa-lite; and a little rushed too.
The news feeds, supposed to heighten realism during tournament play, are woefully generic. Pure Lingua Franca: you'll cringe at such feeds as "Xavi banned for next match Spain play in this tournament."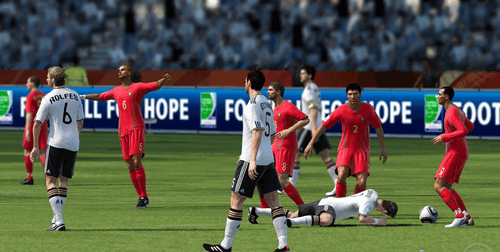 Come on ref, he just likes eating grass!