Samsung Diva fashion phone
Here come the girls, etc, etc.
And then there's the Wish List option that encourages you to create a shopping list of items you're after, including price, quantity and priority.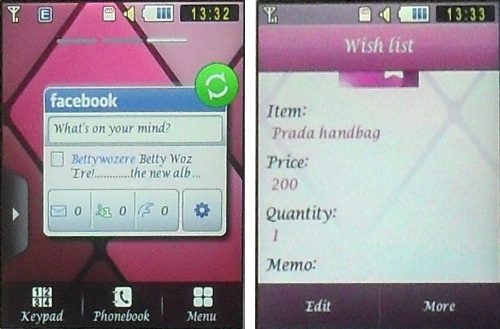 The 'Female-centric' UI extends to a Facebook widget and Wish List app
Social networking is a big aspect of this phone - shopping and chatting, eh, girls? – and there are widgets for Facebook, Twitter, MySpace, Picasa, Friendster, Bebo, Flickr and Photobucket already on board, with the option to add more from Samsung's online repository.
With such a focus on messaging, though, it's a shame there isn't a virtual Qwerty keyboard – you're stuck with standard alphanumeric keypad and T9.
The Twitter widget will flag up your latest Tweet on the home page. You can press a corner to see the next Tweet, change your settings, post a message or access the full app, which gives you a scrolling list of your latest updates. A decently useful little app in other words.
It's much the same deal with the Facebook widget, but there's none of that fancy shmancy 3G or Wi-Fi malarkey here, network and web connection is strictly 2.5G GPRS or Edge, which means doing anything online can be a bit of a chore. The browser is OK as far as it goes, with the on-board accelerometer flipping the screen into landscape mode and the zoom option arrived at by pressing and holding the screen. It has Flash video too, but it will insist on forcing text into the Diva's default italic script, which won't appeal to everyone.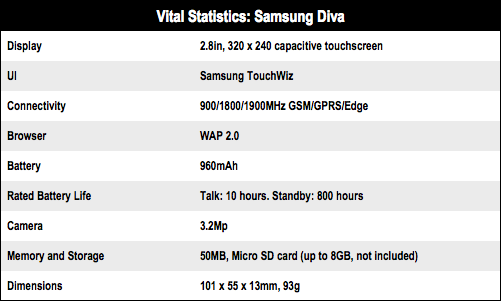 Sponsored: Minds Mastering Machines - Call for papers now open