Iomega StorCenter ix2-200 4TB Nas box
Hard'n'heavy
Review Iomega has introduced its second-generation StorCenter ix2-200, aimed at the 'prosumer' home user and which offers a wealth of features ranging from a BitTorrent client and remote access to surveillance camera support.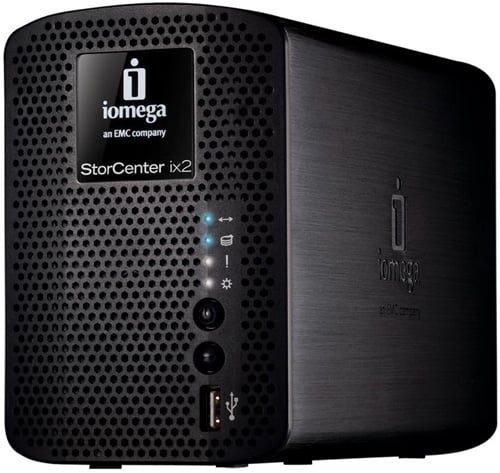 Iomega's StorCenter ix2-200
While most other Network Attached Storage (Nas) manufacturers are trying to conserve materials and so build their boxes as light as possible, Iomega has brought out the heavy armour and constructed a contender for the battlefield. It's not listed on the feature set, but the ix2-200 seems likely to be bombproof.
Well, perhaps not, but the black aluminium housing would certainly look the part strapped under the wing of an F-22 Raptor and, given its weight - 2.3kg - would probably have a similar effect as the ordnance it would have replaced. In other words, it's sleek and heavy. But this much storage doesn't need to be portable.
Internally, the ix2-200 houses a 1GHz Marvell 6281 CPU and 256MB of memory to handle server operations and manage the two 3.5in Sata bays which allow for a maximum of 4TB of storage. Iomega has also included three USB 2.0 ports which can communicate with printers, external HDDs and even Bluetooth dongles. Gigabit Ethernet is included too.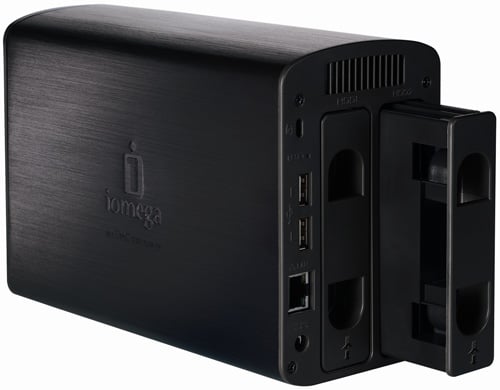 Back Side
The ix2-200 is probably not the most feature-rich Nas box out there, but it does include some interesting features on top of the standard set. It includes Iomega's QuikTransfer button, one of my favourite features. You configure a "Copy Job" to be run on the press of said button. This "Copy Job" can take place entirely on the server, or between the ix2-200 and other USB or networked devices without the need for a computer to access the server.
COMMENTS
Yep, and...
...his setup will be a helluva lot more noisy and cost a lot more in electricity usage.
I specifically bought a now ancient WD MyBookWorld, hacked open for full linux access on it and an unrestricted Samba install, for these very reasons.
Its been spinning now for about two years without issue, and its claiming, oh, about 10 or so watts when spinning. About 2 watts when in sleep mode.
.
Not that I'm a greenie, its just saving me cash!
Tin foil hat
As I read it, the CCTV link was the area for tin foil hattery.
That assumes you have the skills and the space.
That assumes you know how to set all of that up.
That iCute case is about 10 times the size of this unit (its smaller than a toaster). As to price you need to add on 2x2TB disks and your total comes to £356 while these retail at £400. The 2TB version would set you back 225 while your solution would be 156 + 2x70? = £296
Add to that these units are whisper quiet and use a fraction of the power and it looks a resonable solution for home backup and/or media storage. Sure if you need massively more storage and other facilities your solution is cheaper but its not the same target market.
Reasonable hardware, pathetic software, disastrous support
I bought one of these about 3 months ago, to use as a backup server for 1 Linux desktop (Fedora), I iMac and 1 Windows Vista laptop. It took several weeks to get it all configured because the included plug-and-pray management software simply doesn't work on *any* of the above platforms. I had to sniff the net for the box's IP address and then configure using a browser in each case. Getting TimeMachine working was head-bangingly difficult though I eventually managed it.
The Iomega support forums are far and away the worst I have ever seen for any commercial product and an order of magnitude worse than those I use for free software. You register to ask a question, send the question, and then wait several days to be told that YOUR QUESTION HAS BEEN ACCEPTED. WTF? And this is for a *user* support forum, not to get direct support from Iomega. To get that you have to make a phone-call, which in my case would mean an international call. No thanks. Have these people never heard of email?
The upside is that the box so far hasn't failed. It just sits there and makes grumbling noises from time to time when copying stuff. A huge disadvantage from my point of view is that even though it's a Linux system you can't ssh into it, so you're stuck with what the (limited and clunky) web interface gives you.
I won't be buying another one of these.
BTW, nearly every tech review of the thing seems just to spout the manufacturer's brochure. Once again, WTF?
network
Plus, doesn't that build yourself PC only have 10/100 networking? Could be an issue for NAS?