Samsung NaviBot robot cleaner
Today, the carpet - tomorrow, the world
With more normal levels of cat hair, cigar offcuts and other detritus on wooden floors, the NaviBot made a much better job of things. But you'll really need to move light objects out of the way first - it proved surprisingly adept at capturing cables or the laces of trainers, and even the almost empty recycling box got pushed around the kitchen.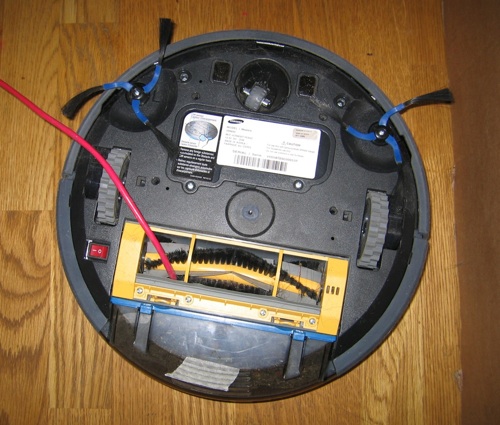 The business end
My bedroom has presented a challenge to many, and the NaviBot was no exception. It took a few attempts before realising that it should go around the barber's chair, rather than grounding itself on the base – lower obstacles, like the strips between rooms, presented no obstacle. And, even after two Max cleaning cycles, there was still plenty of ingrained dirt for the Dyson to deal with.
That said, most people don't have rooms as messy as mine. On carpet, with an ordinary level of dirt, the results were certainly acceptable.
Verdict
If you have hard floors, and not too much clutter, then the NaviBot can certainly save you a lot of time – but it's also pretty pricey. It cleans up the mess on carpets too, but it's not really going to help if you're pathologically messy - there's just not enough suction to remove really ingrained dirt.
Gadget lovers will love it, and minimalists won't have any problems with it. But if you're somewhere in between, the need to make sure there's space for the NaviBot to get around unobstructed, the cost, and the need for another vacuum to do the really dirty work, mean it's hard to wholeheartedly recommend, adorable though it is. ®
More Gagdet Reviews

iRobot
Roomba
560
WowWee
Rovio
Aiptek
MobileCinema
D10
GlideTV
Navigator
Sponsored: Minds Mastering Machines - Call for papers now open

Samsung NaviBot robot cleaner
A compact and easy to use robot cleaner for those who hate cleaning and love gadgets.