Live PARIS GPS tracker test tomorrow
Follow us online as we go walkabout
Tomorrow, the El Reg Paper Aircraft Released Into Space (PARIS) team will be conducting a live test of the the GPS tracking device which we hope will enable us to locate and recover our main payload, once it's floated gently to Earth.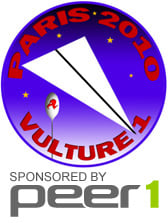 The unit is an off-the-shelf tracker - Blue Tree Service's KoolTrax Lite - which we ran through its paces a couple of weeks back. This time, however, we're inviting readers to join us for a real-time, live test which should emulate pretty much how the thing will work when launch day arrives.
We're very much obliged to Blue Tree for providing us with the data feed which has enabled our very own tech ops to mash up a custom map plotting the tracker's progress.
Here's a screen grab of just how the map looked after a short test earlier today. We've restricted the data points to one every couple of minutes or so, since that's more than enough for a two-hour-plus flight:
Well, it just remains to fire up the map for your viewing pleasure and take the tracker for a spin. The live map features clickable data points giving the time of the plot, so it's pretty straightforward to interpret, as you'll see.
The test begins tomorrow at 2pm UK time, and the map will be made available through a new story we'll post at around 1pm. See you there. ®
Sponsored: Minds Mastering Machines - Call for papers now open