Compellent fattens up for investors
Scale up, scale out - that's what it's all about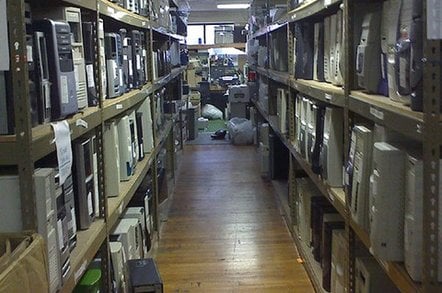 Compellent's one-trick storage pony is getting company in the next year that will scale up, scale out, dedupe replay blocks, add support for metro-clustering, and introduce a backup/archival storage product.
The company's current Storage Centre platform is an X86 controller, the SC030, running block-access Storage Centre 5.2 software with a stack of disk drives in enclosures underneath it. It can be given a filer personality using either Windows Storage Server or zNAS heads.
The coming SC040 will scale-up by having dual quad-core Nehalem processors, a faster and larger cache, seven PCIe slots, and a 64-bit Storage Centre 5.3 OS that will provide the horsepower for the more complex features and storage personalities that Compellent is developing. The SC040 will ship to early adopters in the third quarter of this year, and represents a huge performance boost that will enable massive scalability and deduplication - although it's perhaps somewhat late, having first been discussed a year ago.
Storage Centre 5.3 will also support the SC020 and SC030 controllers, but not the earlier SC010. Dedupe on the SC020 and SC030 controllers is not a given, as CPU resources are needed for it.
The system will have a 6Gb/sec SAS link to the backend storage enclosures, a switchless link, and host connectivity over Fibre Channel, iSCSI, or FCoE. Data encryption will be supported, and Emulex being mentioned with the suggestion of server HBA-level 256-bit encryption.
Compellent says there will be increased 2.5-inch drive support, with a 900GB, 10K product mentioned as well as a 300GB, 15K product - but neither have yet been announced by disk manufacturers.
Larry Aszman, Compellent's chief technology officer and a co-founder, said the scale-out development will make it possible to cluster Storage Centers beyond today's two-controller configuration. The plurality of nodes will be managed as a single system and some form of load balancing will occur, both using Live Volume technology with synchronous Live Volumes. The cluster interconnect has not been announced, but Ethernet is a good bet as Compellent likes open standards.
Both older and newer Compellent systems would inter-operate in such clusters. Individual nodes in the cluster could be taken down and upgraded without affecting cluster uptime.
Metro-clustering will be supported so that Storage Centre products in data centres in both side of a city could be linked and act as fail-over targets for each other using mirroring and Live Volume technology. The distance supported will depend on the network latency, and the Compellent systems on either side of the link can be dissimilar.
Backup and Archive
Compellent will also add a backup and archive personality to the Storage Centre platform. Currently, users can get data protection with snapshots called Replays.
With Data Instant Replay, once an initial snapshot of a volume is taken, only incremental changes in data need to be captured, and data volumes can be recovered to pretty much any instant in time if snapshots are taken often enough. We expect that replays can be copied by data progression software or some policy-driven mechanism, from the production or primary Storage Centre to the backup and archive one.
Aszman said "We would be envisaging some form of spindown," using drives with that capability, and that "We understand all the properties of data blocks in play. Once a block is old [enough] it could be moved to a tier that can be spun down."
Compellent's co-founding of the Active Archive Alliance (AAA), whereby archive apps present a consistent pool of archive storage including both disk (Compellent) and tape (SpecraLogic), is one aspect of its move into the backup and archive space. Data could be moved, for example, from Compellent storage to a SpectraLogic library.
Archiving software tends to be pretty rich, including ingest, indexing, search, eDiscovery, legal hold, compliance and retention features. What approach would Compellent take to delivering this?
Aszman said: "We could come up with an initial layer of functionality and then refine it in a step-wise way." He also said Compellent could/would work with partners as well. It was noteworthy that CommVault, with its Simpana archive and backup software, was a sponsor of Compellent's C-Drive event.
A CommVault spokesperson said that the company would approach potential membership in the AAA from the point of view of wanting a standard archive format so that data could be moved from one archive to another.
Aszman emphasised that this is "still at the conceptual stage," and Compellent marketing head Bruce Kornfeld talked about three different use cases for the backup and archive product. The first is for it to hold data from production Storage Centres. He said that he could see the product having some 15K drives for the most-recent or needed backup/archive data, and 7200 SATA drives for the older data.
The second case is to have the product mounted as, for example, a CommVault Backup Server or by Symantec or Microsoft's DPM. In other words, it receives data from servers over the LAN.
The third example is to have data replicated from one Compellent backup/archive product to a remote one or to the cloud. Compellent is not developing its own cloud service offering, but is devising products to sell to cloud service builders and suppliers.
Sponsored: Minds Mastering Machines - Call for papers now open