Atlantis looking good for 14 May launch
Last shuttle flight knocked back to November, though
Space shuttle Atlantis is good to go on 14 May on its STS-132 mission to the International Space Station, NASA has confirmed.
All being well, Atlantis will depart Kennedy Space Center's Launch Pad 39A at 18:20 GMT, bearing its cargo of "Integrated Cargo Carrier and a Russian-built Mini Research Module".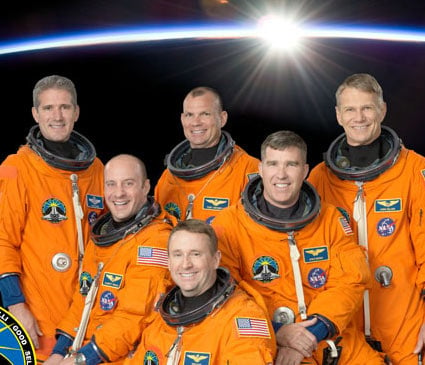 The crew for the 12-day mission are (pictured clockwise from bottom) commander Ken Ham, mission specialists Garrett Reisman and Michael Good, pilot Tony Antonelli, and mission specialists Piers Sellers and Steve Bowen.
Apart from STS-132, there remain two final shuttle missions. Discovery's STS-133 was to be the last launch on 16 September, but NASA has knocked back Endeavour's STS-134 from 29 July to a date "no earlier than mid-November".
The agency explains that the reason for this is the extension of the ISS's working life until 2020. Endeavour is tasked with carrying the Alpha Magnetic Spectrometer (AMS) aloft and scientists have now decided to "change out the current magnet in the particle physics experiment module that will be attached to the International Space Station to a longer lasting one". ®
Sponsored: Are DLP and DTP still an issue?