Asus pitches all-in-one for home entertaining
Whatever happened to cheese fondues?
Asus has set its sights on desktopthe UK home entertainment market with a sleek and rather cheap all-in-one.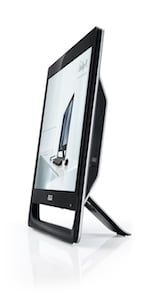 Slim Jim: Asus Eee Top PC ET2010
It looks like this >>>>>>
The Eee Top PC ET2010 series has 20in HD+ wide-screen, a 1in profile - nice for wall mounting - and a VAT inc price of £619.99 SRP.
Of course, it's multi-touch and of course it has Windows 7 Home Premium installed
For multimedia use, there is HDMI compatibility and SRS virtual 5.1 surround sound.
CPU? It's an Intel ATOM dual Core D510 1.66GHz, which will help keep down the electricity bill. Nvidia is supplying the graphics - an ION2010.
The PC is supplied with 2GB RAM as standard, upgradable to 4GB, a 500GB hard drive, onboard WiFi, webcam and digital array microphone.
COMMENTS
Fugly
Why is it that PC companies seem incapable of making an elegant computer that you wouldn't mind having in your living room?
1in profile?
Given the included photo, you could have fooled me!