Binatone Binatone SpeakEasy Mobile
Review Binatone's SpeakEasy isn't aimed at the hard of hearing, but rather at users who simply want a large-buttoned phone with some aids for the elderly.
The lack of an HAC rating is reflected in the asking price. At just over £55, including a desk charger, it's the cheapest handset on test.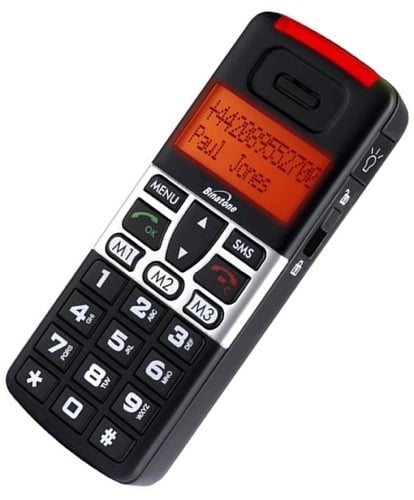 The basic layout of the SpeakEasy is not dissimilar to that of the Amplicom M5010, but whereas the Amplicom uses hard-surface buttons, the Binatone features soft, rubberised keys that are more widely spaced. The keys do require a harder push than the Amplicom, but on balance I'd say the Binatone has the best keypad among the phones grouped here. They key press tone is also the loudest.
Beyond the large and simple control layout, the SpeakEasy's main attractions are the torch at the top of the handset and the handy contacts panel that takes up the whole of the rear of the handset. This provides space for you to write down three contacts, your own phone number and some 'in case of emergency' information. This is useful if the phone is going to be used by a friend or carer when the owner is incapacitated.
Though the torch is a simple white LED is throws out enough light to be genuinely useful in the event of a power cut
The final strength of the Binatone is its physical presence and robustness. It may be a bit of a square old lump, but its very size means it's easy to get a firm grip on and I don't foresee it easily slipping from even a weak grasp. Apart from the Nokia, the Binatone is the only handset on test that doesn't feature a panic alarm of some sort of an emergency dialer protocol.
Verdict
East to use and with a great keypad the Binatone is the budget choice. But it lacks some of the more refined emergency features offered by its rivals. ®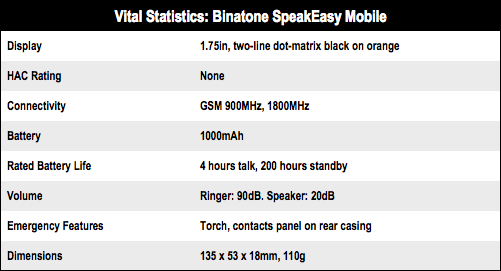 Next Doro 334gsm HandlePlus IUP
Sponsored: Minds Mastering Machines - Call for papers now open

Binatone Binatone SpeakEasy Mobile
Cheap, solid and easy to use, only its lack of HAC support lets this phone down.