Data Locker 1TB AES-encrypted external hard drive
Lock up your datas...
Review How much pr0n can a fellow accumulate during a lifetime? Data Locker's Data Locker hard drive provides a whole terabyte of encrypted, password-protected storage for the files you want to keep from prying eyes.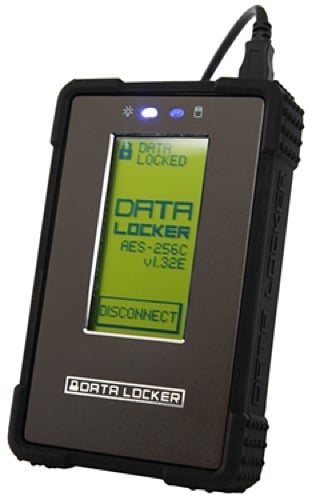 Data Locker's Data Locker: touchscreen tech to the fore
It certainly won't draw any glances for its looks. The Data Locker sports a chunky, two-tone, utilitarian design that recalls pre-iPod digital music players from the early years of the last decade, thanks to its green-backed LCD touchscreen. All it lacks is a headphone socket...
Said display provides a password-entry keypad and options screens rendered in the blocky text and graphics of an earlier computing epoch.
The 1990s just called and they want their user interface back, please.
The drive's one nod toward modernity is the protective, knobbly cornered rubber band that slips around its sides.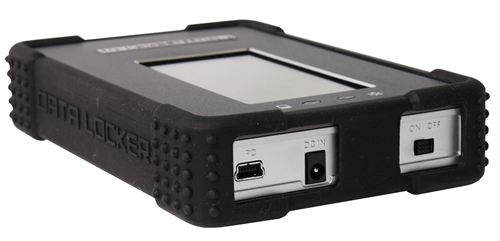 Complete with easily overlooked on/off switch
If the drive doesn't do anything when it's connected up, it's probably because you've neglected to flip the wee on/off switch - not a feature I expect to see on a modern external hard drive. Switch switched, and the bus-powered drive starts up, its display presenting you with a numeric pad on which to tap in the password.
COMMENTS
Marketing
AES is free, there are no licensing fees. The marketing guys identified 3 different markets willing to pay three different prices but found they only had one product, so they had to degrade it to make three different products.
TrueCrypt, TrueCrypt, TrueCrypt......
Why are so many people hung up on TrueCrypt? It's a good bit of software but it's not the same purpose, this is a self-contained external hard drive, you could probably plug it into everything from a mainframe to a DVD player, go to Jessops and plug it into their photo printing machines (I don't think they'd appreciate you saying "do you mind if I just install TrueCrypt on your systems so you can read my hard drive.... thanks.")
Apples and Oranges.
Hardware encrytion
Truecrypt has its place, and hardware encryption has its place. Those places overlap in many areas but they are not the same. So while some people are saying "just use Truecrypt", and in some cases that's viable, it's really comparing apples and oranges to suggest they are interchangeable. The people who will buy this product will usually have different needs, by definition.
Ref Infosec, I was also there and AC, your tinyurl link didn't work. I saw diskgenie there, did you mean them? Any chance of a review of their offering please elreg. In particular the comment about the kind of encryption is spot-on - what are these these really doing under the hood? I like the motto - "buy security products from security vendors, not disk or memory vendors". We all saw what happens when the sandisk issue appeared earlier this year.
hah!
Self destruct mode? I can see people entering random passwords just to wipe the data for th e lolz. BOFH ahoy...
What the hell?!
Charging extra for using one algorithm over another!? Get stuffed.
Plus the cheapest uses their "Proprietary" algo?! Again what the hell for? Couldn't afford the licensing fees for AES?...oh wait.
I say again, get stuffed.