Dead to Rights: Retribution
Dog's dinner?
It gets better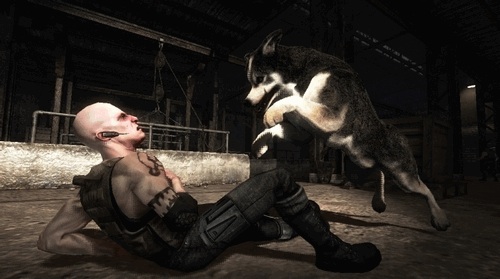 Maybe not such a nice doggy…
The second element to improve the game is the introduction of the futuristic GAC troops around the halfway mark. While not quite matching the watershed levels of say Half-Life's We've Got Hostiles or Beyond Good & Evil's The Factory… Of Deathh, the change in enemy and weapon type is almost as revelatory.
Although in the main they're just tougher versions of earlier enemies, their AI seems cleverer, more interesting. Weapons feel meatier and more precise, too, and show greater variation.
Even the environments feel improved. Still a long way short of matching the looks of triple-A current-gen titles, the switch to a more futuristic palette alleviates the depressive feel of earlier levels.
But even here, Volatile Games does its best to spoil the party. A couple of these levels are just too sparsely populated. One level in particular, in which you are required to blow up several VTOL aircraft, screams out for more enemies.
You can see all of the cover points and imagine facing off against wave after wave of enemies, but down ten or so hostiles and you're left wandering around a ghost town, with little else to do but plant the C4 and move onto the next area. It's hard to know which the developer's ran out of first here, time or ideas.
Nonetheless, the second half of the game is by far the more interesting. Had Volatile Games started midway through, with the introduction of the GAC troops, and broken the gameplay up as it does in the latter stages, it might have had a title of real promise on its hands. Instead, by the time you've reached these levels, you're probably going to be too dispirited to care.
That's the problem with the game overall. For every neat flourish you find here and there, such as the level in which you don a mech suit to dish out some real damage, there's hours' worth of tedious gameplay to trudge through. And without any multiplayer or additional content whatsoever, you'll feel short changed if you pay full price for this game.
"This town," says one of the game's characters during a cut-scene, "needs good cops like Jake Slate."
However true that might be, notwithstanding Jake Slate is little more than a mindless killing machine, this gaming world certainly doesn't need more average games like Dead to Rights: Retribution.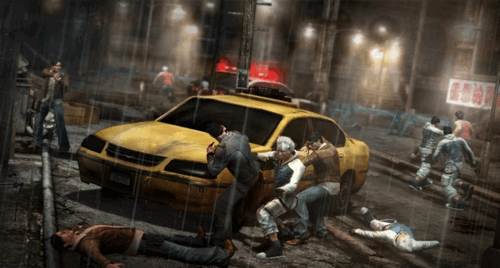 I guess you never heard of forgive and forget?
Some recent reghardware games reviews…

Splinter Cell:
Conviction
Bayonetta
Heavy Rain
Bioshock 2
Sponsored: Minds Mastering Machines - Call for papers now open

Dead to Rights: Retribution
A passable title that'll leave you riddled with as many clichés as bullets. Available on Xbox 360 (tested) and PS3