Telefonica prices up HP smartbook
Android'n'ARM gadget launch detailed
Spain will get HP's Compaq AirLife 100 'smartbook' next month, the nation's biggest telco, Telefonica - owner of Britain's O2 - said yesterday.
Prices start at €229 (£199) for the 10.1in ARM-based, Android-running netbook on a €48 (£42) per month 'unlimited' data contract. Pay €299 (£260) up front and you can get away with a €39 (£34) a month subscription.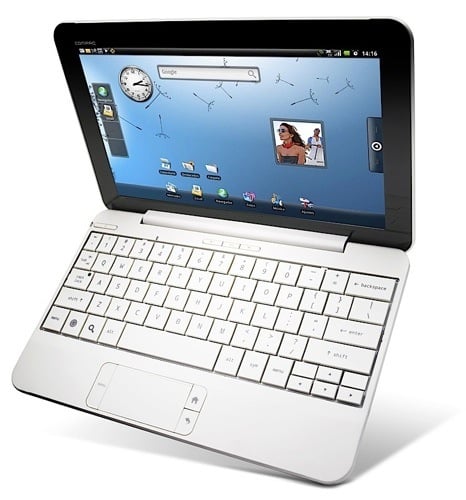 HP's Compaq AirLife 100: ARM 'n' Android
The AirLife 100, which was announced at the Mobile World Congress show two months ago, incorporates a 1GHz Qualcomm Snapdragon processor - the QSD8250 - plus 512MB of memory, 512MB of Flash Rom and 16GB of Flash storage.
It has GPS on board and integrated GSM/GPRS and 3G HSDPA connectivity.
Like any good netbook, it has a 10.1in screen, though the resolution is limited to 1024 x 600.
The whole lot's powered from a 28Wh removable battery which HP previously said would deliver 12 hours' runtime or up to ten days' life in standby mode.
The AirLife's details have already appeared on HP's US website, indicating that the device will arrive over there in due course. Telefonica has the machine on an exclusive basis in Spain, and such deals often translate to further exclusives in other countries. Will O2 it offer it over here, we wonder? If you know, drop us a line... ®
Sponsored: RAID: End of an era?