Dell Inspiron Zino HD
Review The price of the Dell Inspiron Zino HD has risen since Reg Hardware first reviewed it, with the base price now starting at £329 instead of £279. The highly specced review system came complete with a Blu-ray combo drive and we calculate the all-in price at £730.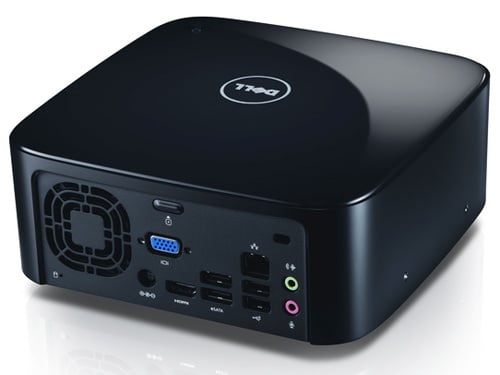 You don't get a TFT display included in that price but you should have no trouble finding a location near your telly as the Dell is tiny, measuring 197mm square and 89mm tall. It also has an HDMI output.
Other ports and connectors consist of four USB 2.0 ports, an SD card slot, Gigabit Ethernet and 802.11n wireless, headphone jacks and not one but two eSata ports.
It's a strange collection of connectors – two eSata ports? – and the lack of surround sound detracts from the appeal of the AMD ATI Radeon HD 4330 graphics, the optional Blu-ray drive and the copy of PowerDVD Blu-ray software. After all, Blu-ray movies typically have 5.1 or 7.1 soundtrack.
Despite the small footprint of the Zino HD, Dell has squeezed in a full-size, 3.5in desktop hard drive that provides a massive 1TB of storage.
The dual-core AMD Athlon X2 3250E processor and relatively weedy graphics mean that while you can happily watch movies, mainly thanks to the ATI movie decoder, you can pretty much forget about playing games at Full HD settings with the Dell. You'll be able to play less intensive games such as Far Cry 2 at 720p provided you ease back on the quality settings.
Verdict
The compact design of the Zino HD makes it ideal for a location in pride of place next to your TV. However, the curious mix of features and the high price detract from its appeal. ®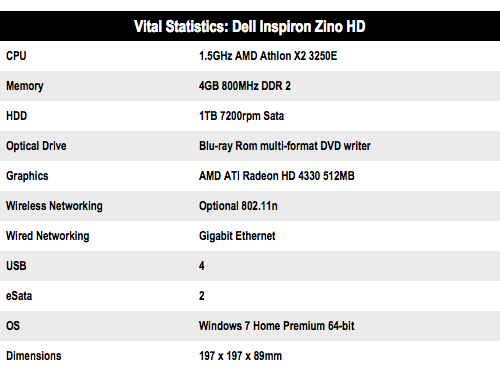 Next: Fujitsu Esprimo Q9000
COMMENTS
Zino HD
If you connect the ZinoHD over it's HDMI port, it has no trouble in sending 5.1 or even 7.1 sound to a receiver. I know this for a fact, because I'm doing it.
Zino & Surround
Surely the Dell will use the HDMI for the surround sound duties? And are you sure the speaker out isn't a mini optical like the mac mini's?