California's 'Zero Energy House' is actually massive fossil hog
'Zenergy' eco-home gets award from local senator anyway
'Zero Net Energy' = One-third more fossil power than the average household
The "Zero Energy" prototype, in the course of its green makeover, had its oldschool US style twin furnaces replaced with a "combined hydronic heating system" using gas to provide heat and hot water. "Hydronic" simply means the use of water to transmit heat generated in some other way - in this case by burning fossil fuel, specifically natural gas.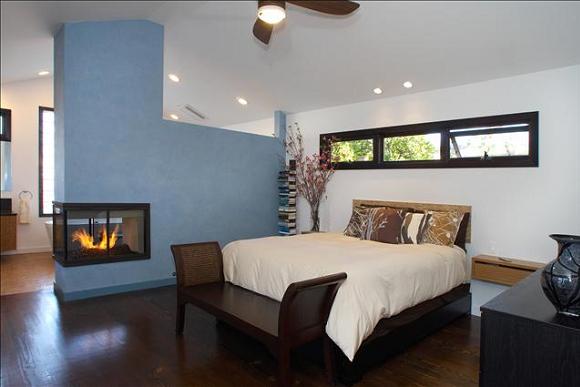 That'll be one of those zero-energy gas fires
According to Schwolsky:
We averaged 85 Therms a month from December '09 through march 2010 (our heating season in LA). We are not including the use of natural gas or water into our "Zero Energy" calculations.

The "Zero Energy" refers to electrical use only.

Onward[!]
Eighty-five therms is the same as 2491 kilowatt-hours per month. A normal household in the Western USA, according to the US government, uses 77 million British Thermal Units annually - which is the same as 1881 kilowatt-hours per month. The Zenergy house uses a third more energy than the regional household average, and one may note that by American standards it is by no means large (3 bedrooms, 3 bathrooms).
Not only is the house not zero-net-energy, it actually seems to be something of a power hog as American houses go.
REAS are being more than a bit cheeky with their use of words here, but they don't make any serious effort to obscure the real nature of the "Zenergy" project - which is no more than massively overhyped marketing for new heating installations, AC units, loft insulation and so on.
It is more than a little startling, though, that the energy-hog house was given an "Environmental Sustainability Award" by the California state senate - apparently presented in person by Senator Fran Pavley, who represents the 23rd district (parts of Los Angeles and Ventura counties) in Sacramento.
And how could the "green design" advertorial newshawks of Inhabitat get it so wrong, too?
A brief glance at the qualifications of the reporter (sorry "senior contributing editor") who wrote the piece may provide a clue to those familiar with the mad eco notions often espoused by the architecture community. The fact that the site's editor-in-chief and founder Jill Fehrenbacher holds a first degree in "Art Semiotics" and another in "Design Studies" from our own Central St Martins art college here in London doesn't engender confidence in its corporate tech-savvy, either.
American readers concerned to make the greenest eco choices in buildings and houses may also care to note that both REAS' Schwolsky and Fehrenbacher hold LEED AP qualifications from the Green Building Certification Institute, endorsed by the US Green Building Council. ®
Sponsored: Minds Mastering Machines - Call for papers now open