Codeweavers CrossOver Mac
Run Windows apps - minus Windows
I tested the Office 2003 and Office 2007 suites, and those programs did run well – more smoothly, in fact, than using either Parallels or Fusion. CrossOver even makes Windows programs look a bit more Mac-like by adding a new title bar complete with the Mac's candy-coloured control buttons.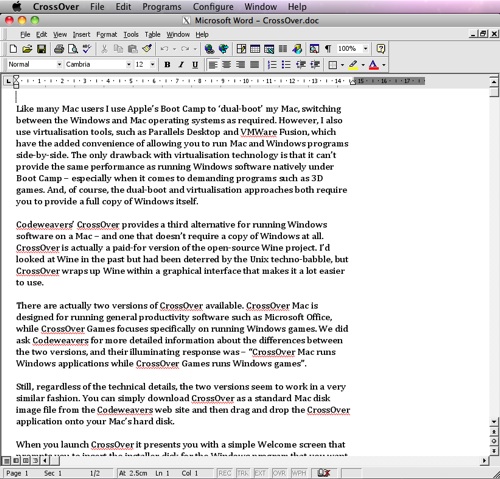 Windows apps get it little of the OS X look'n'feel
However, the situation wasn't quite so rosy when I tried CrossOver Games. I normally test PCs by checking their performance with Far Cry 2, but that falls into the 'doesn't work' category. My current favourite game is Dragon Age: Origins - it gets a silver medal for compatibility, but I repeatedly got an error message when attempting to install it from disk. I found a fellow sufferer on the Codeweaver support forums who had encountered the same error message, but there's no word of a solution yet.
Another old favourite is Guild Wars, which also gets a silver rating. This installed easily and was quite playable on a MacBook, although the frame rate under CrossOver was only about half of what we got when running the same game under Boot Camp.
Verdict
To be fair, getting any Windows programs running on a Mac without having to install Windows is an impressive technical feat, and Codeweavers has done a good job of giving the Unix-oriented Wine a user-friendly graphical interface. I can't deny that CrossOver works very well with a limited range of general productivity programs. However, it needs to provide much greater compatibility with the full range of Windows software before it can really be a reliable alternative to Boot Camp, Parallels or Fusion. ®
Sponsored: Minds Mastering Machines - Call for papers now open

Codeweavers CrossOver Mac
An ingenious option for running Windows software on a Mac - but first check your favourite PC apps are compatible.