Codeweavers CrossOver Mac
Run Windows apps - minus Windows
Regardless of finer technical details, the two versions work in a very similar fashion. To install the program you simply download the CrossOver disk image file from the Codeweavers web site, open it, and then drag and drop the CrossOver application onto your hard disk.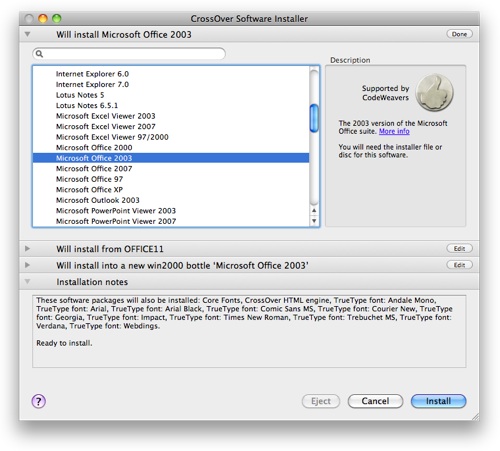 Prime CrossOver with the name of the app you want to install
When you launch CrossOver it presents you with a simple Welcome screen that prompts you to insert the installer disk for the Windows program that you want to install. It's also possible to install software that you've downloaded from the Internet as long as you've got the full installer required for that piece of software.
Rather than simply copying the program files onto your Mac's hard disk, CrossOver creates a "bottle" – a file that Codeweavers describes as a "virtual Windows environment" – and then installs the program into it. The bottle contains elements – such as a virtual Windows registry – that, in effect, fool the program into thinking that it's running on Windows.
This approach can be very effective – but only if CrossOver is compatible with the specific Windows programs that you want to use. Codeweavers maintains a compatibility database that rates hundreds of Windows apps according to a rather convoluted system of "medals". For instance, my copy of Microsoft Publisher 2003 gets a gold medal rating, which means that it should run well enough for everyday use.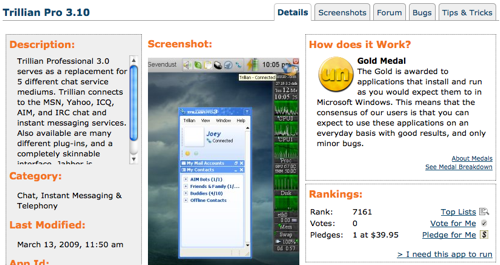 Check for app compatibility first
However, Word 2003 and Excel 2003 only get a silver medal - more or less OK, but there may be occasional bugs - while the more recent Microsoft Office 2007 just gets a bronze. The database also lists a large number of programs as "untested" or "known not to work".
Sponsored: Minds Mastering Machines - Call for papers now open