Samsung R580 15.6in notebook
Entertainment centre
Speaking of software, Samsung bundles a stack of demos with this machine, all time-limited and designed to encourage you to cough up subscriptions for McAfee anti-virus; Pheonix's laptop-tracking service, Failsafe; and AnyPC remote access.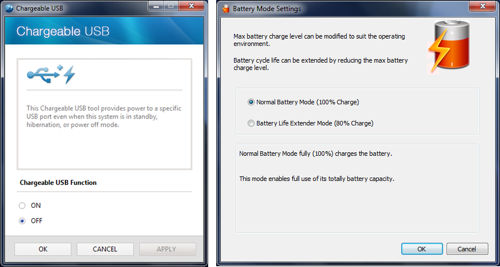 Samsung bundles a stack of utilities
Samsung's own software centres covers the utilities: a network manager that allows you to set up multiple 'locations', each with their own network and printer settings; a battery life booster that ensure the battery is never charged beyond 80 per cent of current capacity, reducing its per-charge runtime but extending its overall longevity; and the ability to allow the USB port on the left side of the machine to feed power even when the notebook is asleep or shutdown.
I tried the USB power feature but without success - it would only power up my iPhone when the system was up and running - so I can't personally recommend it. I can't praise the battery life, either: it only managed fractionally over two hours in Reg Hardware's PCMark Vantage loop test. But this is a desktop replacement, after all - you don't buy a machine like this if you want the acme of mobile computing.
I'm not sure about the angular design, either, but that's an entirely subjective judgement. A fellow Vuture stuck his head round the door and declared it the "most ugly" laptop he'd seen. That's overly harsh - the R580's burgundy red colour scheme is cute, especially the way it fades to black at the edges, but there's a sense here of someone in Samsung's design team trying too hard.
Case in point: the glossy fingerprint magnet that is the wrist rest area and keyboard surround is a sea of wavy red lines the might be a topographical map of Hades.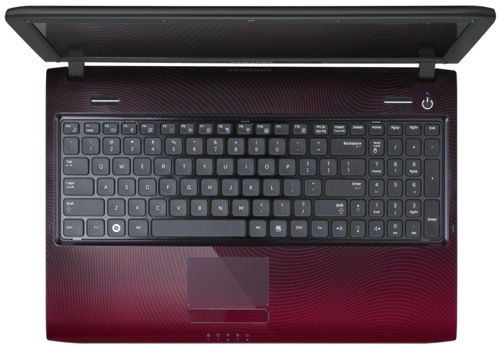 Abandon hope all ye who enter here?
And why did Samsung have to make the touchpad so small. Actually, it's not that wee, but it does look a trifle lost. So you don't lose track of where it is, the pad has four blue pinprick LEDs, one at each corner, to tell you 'I'm here'. Sorry, Samsung, but it's unbelievably naff. It doesn't look cool, it doesn't look tough in a boy-racer kind of way, it just looks silly.
Sponsored: Minds Mastering Machines - Call for papers now open