Infosec surfs in on self-propagating scaremongering
Enter the insufferable hype machine
Opinion Infosec, the annual IT security trade show, has always been a place to do deals rather than to unveil new research or make significant product announcements.
Over the years the conference has attracted a steady stream of high-profile speakers - last year former Home Secretary David Blunkett featured in the line-up. With the general election just days away it's understandable that no politicians made the show this year. Air travel disruption precipitated by the Icelandic volcano meant that some US-based chief execs failed to make the conference this year as well.
What was left was more than 300 firms competing for attention at an Earl's Court venue that by mid afternoon Tuesday began to resemble a sauna. Infosec bills itself as "Europe's number one information security event" but the truth is there's more news and high profile speakers at RSA Europe or even the security fringe of shows such as CeBIT or 3GSM. RSA Europe, for example, had presentations by the Information Commissioner and rogue trader Nick Leeson last October.
Infosec had to make do with one of six deputy Information Commissioners as its headliner. Not so good.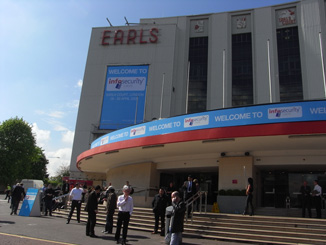 Will the last vendor with any news please turn off the lights.
If 3GSM is the mobile world's Glastonbury then Infosec is the high-tech equivalent of the Adam Ant comeback gig. Delegates want it to work but it's well past its prime and hovers on the edge of a breakdown. Where the conference works, and works well, is as an opportunity for US vendors to meet channel partners. It's also a place for buyers to size up the market and for sales folk to generate leads. It's a channel event, and a good one, but this is not how it's sold. And therein lies the problem.
There's plenty of exciting new research going on in the security field but that research is presented at conferences like Source Boston and Black Hat Europe - which both occurred this month alone. No substantive research was presented at Infosec and few security researchers attended. Instead Infosec is full of security marketing people and other suits.
The biggest stands at the show were maintained by anti-virus vendors. But dive down through the list and you'll see a number of former stalwarts of the show have drifted away. There was no BT or Microsoft, for example. I've attended Infosec every year since 1997 and each time I've got less and less news out of it. These days I use the conference as a chance to catch up with people I normally only speak to on the phone.
The show also lacks the focus of more specialist events, such as the e-Crime Congress. Ironically this was the problem the Network Telecom Birmingham used to have in comparison with Infosec prior to the demise of that little-missed show.
This year vendors were talking about compliance or cloud computing or simply what they did. Nobody had a significant announcement and this has been the pattern for several years.
Judging by its first day, Infosec show numbers seem to be holding up. Last year 12,445 people visited the show. Exhibitor numbers are also about the same as last year.
Infosec remains by all appearances and certainly by the testimony of its own hype machine a big commercial success. Nonetheless it needs to reinvent itself to stay relevant. Now in its fifteenth year, Infosec needs to move on from being a troubled teenager onto adulthood. Greater change than just moving digs from Olympia, its digs for over a decade, to Earl's Court can't come soon enough. ®
Sponsored: Minds Mastering Machines - Call for papers now open