Acer Easystore H340 2TB Nas box
For the heavyweight home user
Local streaming is seamless, but how about remote access? Or should I say; do you have a Windows Live ID? You'll need one if you want to use the WHS remote access feature without a complicated mess of port forwarding to SMB shares. Microsoft provides a service that dishes out free insert-your-own-subdomain-here.homeserver.com domains allowing you to connect to the (not all that intuitive) remote access interface.
Third party DNS services such as DynDNS are not supported. I found that the WHS web interface lacks features found in other competing products, such as device configuration and in-browser streaming of media files. Indeed, it appears the only function of the web interface is to offer file management.
On the local set up side, the Windows Home Server Console is fairly straightforward, providing an intuitive interface, which will appeal to the average user. Configurable features include multiple user accounts, shared folders, disk management, power management and backup management.
The unit also comes bundled with McAfee Total bloatware Protection, which will nag you indefinitely until you register it. It then leaves you alone until the trial period ends, only to start harassing you again to buy a license. At first this seems normal, PC manufacturers have been doing it for years, but in order to remove it, the user must use RDC and manually access the Add/Remove Programs facility, as this "feature" is not listed as an Add-in by the Windows Home Server Console.
In addition to streaming, facilities are provided for automated backups of any configured machine on the network, along with statistics such as uptime provided by the "Lights-Out" add-in. This feature manages the power consumption of the server by using calendar events (i.e. backups) or pre-set timings to wake the server and send it back to sleep once a task has completed.
Data Throughput Results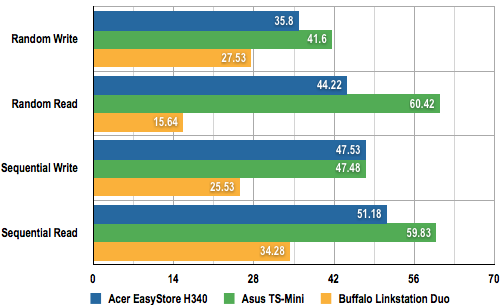 512k file tests - throughput in Megabytes per Second (MB/s)
Longer bars are better
In short, Lights Out allows a user to run overnight backups without having to leave the server on constantly. Furthermore, detailed system statistics – such as CPU/RAM/HDD usage, system temperatures, fan speeds and rail voltages – are also available using the Windows Home Server Console. It is also possible to configure an email alert to inform you when usage thresholds are reached.
Sponsored: Minds Mastering Machines - Call for papers now open